Cynna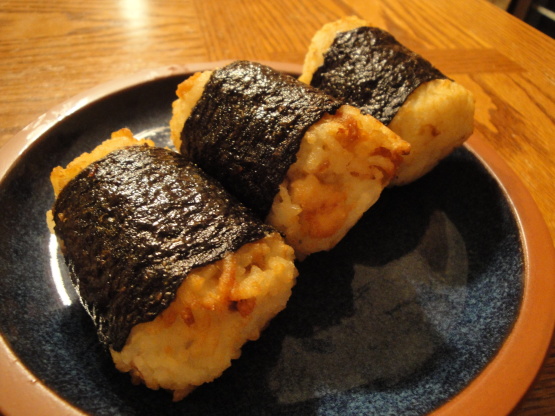 Experimentation rules in our household. One night, my boyfriend decided to fry his onigiri and it was amazing. Nothing but rave reviews from our friends! You can use whatever filling you like but we always use tuna or salmon. For best results, use a short grain rice, but in this recipe normal rice will work.
Heat canola oil in a frying pan over medium heat.
Mix egg into cooled, cooked rice until well-combined.
Take a spoonful of rice mixture and roll into a ball shape.
Press a hole into the middle of the ball and add fish.
Cover hole with more rice mixture and roll until uniformly round.
Place ball into heated oil and fry on each side until golden brown.
Set aside on paper towels to cool slightly.
Season lightly with salt and pepper (if desired).
Wrap rice balls with nori.
Serve and enjoy!