Rob's Carrot Cake With Pineapple Walnuts and Raisins
robd16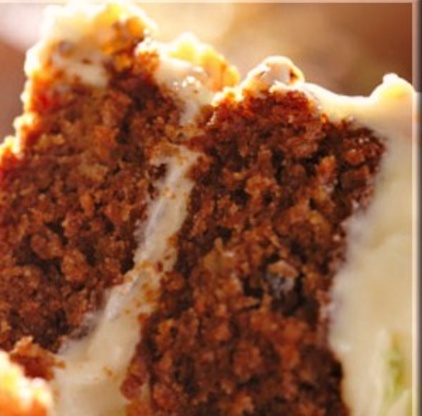 My version is lower in fat and jam packed full of carrots, fruits and nuts. 1 slice is I'm sure at least 1 of your 5 a day if not 2. This cake is moist without being wet and I just love it!
Set the oven to 180C/350F and prepare 2 7inch round cake pans by covering the base with greaseproof paper lightly greasing on both sides.
Sift dry ingredients into a large mixing bowl. Dry the pineapple between pieces of kitchen roll, and put along with the lemon rind, carrot and raisins into the large bowl with the dry ingredients coating everything evenly with the flour mixture (best to use your hands).
Beat the eggs into the oil and milk and add the vanilla essence. Pour onto dry ingredients and mix lightly but thoroughly making sure all ingredients are incorporated.
Divide evenly between cake pans and bake for 25 minutes or until a toothpick or skewer comes out clean when inserted.
Leave to cool in the pan for 10mins before transferring to a wire rack to cool completely.
Make the icing by beating together the cream cheese, sugar and lemon juice until smooth. Spread a very thin layer in the middle of the cake, and use the rest to ice the top.
Put the orange rind in the middle of the cake as decoration.