chia2160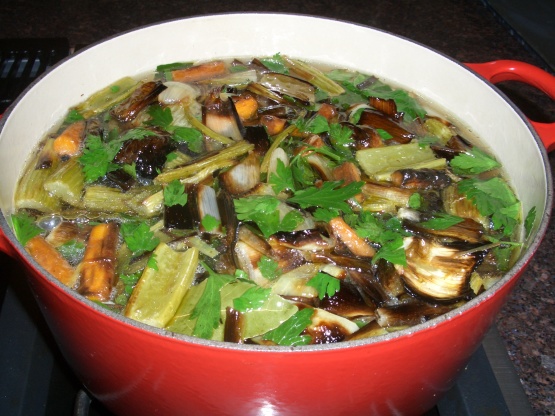 This takes a while, but the end result is a lovely rich vegetable stock, ready to be the base for many soups, stews and sauces. Add or change the herbs according to your taste--add fennel if you like a hint of anise in your stock.

Great to find a recipe here with an awesome mirepoix as its base. I recommend, instead of scraping, use a small bit of water or white wine in the roasting pan, over a burner for a bit and lift those tasty morsels off without an effort. Wonderful stuff those morsels are!
Heat oven to 450°F.
Toss the vegetables with the olive oil, until gently coated.
Place the vegetables in a roasting pan or on a foil-lined baking sheet and roast for about half an hour, turning them occasionally (They should be nicely browned and very aromatic).
Place all the vegetables in a large pot, scraping all the good brown stuff from the roasting pan into the pot with the herbs and peppercorns.
Fill with water and place on the stovetop on medium high heat.
Bring to a boil, lower the temperature, and boil gently for 2-3 hours (watch the water level--if it boils down too much, add more water).
Strain, pressing down on solids to extract as much liquid as possible; discard the solids and place the remaining liquid in a sauce pan.
Simmer until reduced by three quarters; this could take about an hour.
You should end up with about one and a half to two quarts of stock.