Roasted Smoky Turkey Legs
Mercy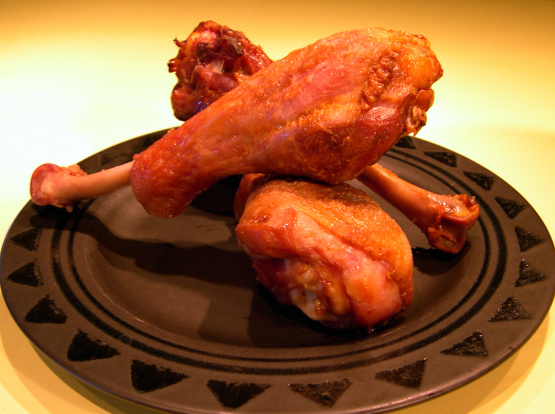 My husband and I absolutely LOVE the smoked turkey legs that are available at the nearby theme parks. This is a close, smokeless, version of those turkey legs that hold a very special place in our hearts. The passive cooking time includes the brining time.

WAAAYY too salty! It could be that I used the wrong salt. I couldn't find Morton Tender Quick Salt, so I used Pickling salt--no additives-- so I thought it would be okay, but apparently not! It also took a very long time to brown (about 20 min a side at 500 degrees) and the meat was a bit dry.
Mix the salt, brown sugar, liquid smoke and water together until all is dissolved and pour the briny mixture over the turkey legs.
Store in a covered container in the refrigerator for 24-hours to 72-hours.
Rinse the brine off the turkey, pat dry with paper towels and roast at 350°F for about 45 minutes.
By this time, the turkey will almost be done, but the skin will still have a pale color, so I crank the oven up to 500°F and roast the legs/wings until they are a rich mahogany color, then I flip them over and roast the other side until it is also deep brown.