Roasted Potatoes With Arugula-Pistachio Pesto
Prep 18 mins
Cook 45 mins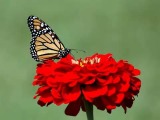 I love fingerling potatoes and this is a great way to jazz them up. From Cooking Light Magazine.
Make and share this Roasted Potatoes With Arugula-Pistachio Pesto recipe from Food.com.
Directions
Place a jelly-roll pan in oven and preheat oven to 400 degrees. Combine potatoes and 1 tablespoons oil in a medium bowl; toss well. Arrange potatoes in a single layer on preheated pan. Sprinkle potatoes with 1/2 teaspoons salt and 1/4 teaspoons pepper. Bake at 400 degrees for 20 minutes; toss potatoes. Bake an additional 25 minutes or until tender, stirring every 10 minutes.
Combine remaining 3 tablespoons oil, remaining 1/4 teaspoons salt, 1/8 teaspoons pepper, arugula leaves, parmesan cheese, pistachios, 2 teaspoons water, lemon juice and garlic in a food processor; process until smooth. Combine arugula mixture and hot potatoes in a medium bowl; toss well.
Reviews
Most Helpful
These were really, really good. I almost didn't want eat them, they were so good. I wanted to share, but ultimately ate them myself. Made for New Kids on the Block Tag.