Prep 15 mins
Cook 25 mins

This came from the local paper. It's an interesting way to prepare okra that cuts down on okra slime. Very easy and much healthier than fried (but fried is still the hands down champ). I only use kosher salt on roasted vegetables, it really does make a difference.
Directions
Rinse okra under cold running water and drain.
Trim tops by removing stems, but don't cut whole caps off.
Cut onion in half from stem to top, then each half again in thirds in the same direction.
Put okra, onion and garlic on an oiled flat pan and drizzle with olive oil.
Tuck in mint sprigs, sprinkle with 3/4 t salt and pepper, toss all together lightly and let flavors mingle at least 20 minutes before roasting.
Roast at 375 for 5 to 10 minutes.
Most Helpful
This was so easy and flavorful-I never knew you could roast okra! I tossed my homegrown okra w/ white onion, garlic, diced tomatoes, evoo, Krazy Jane's seasoned salt, pepper and let sit for 1 hour and roasted for 25 minutes. DELICIOUS! Thank you for a great recipe!!!

I also found it needed more cooking time, 20-25 minutes. Very tasty! Thanks so much for sharing this unique way of cooking okra. I found it needed some other seasoning so I accented it with some shredded fresh basil as I served it. Next time I'll try roasting the onions prior to adding the okra so the onions will get a little caramelized and maybe I'll substitute thyme for the mint. Hmm, so many possibilities!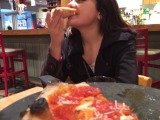 This is a wonderful recipe - thanks for sharing! I added a can of Rotel diced tomatoes (good idea Mrs. Jack!) and it was awesome. Will make again!!