Derf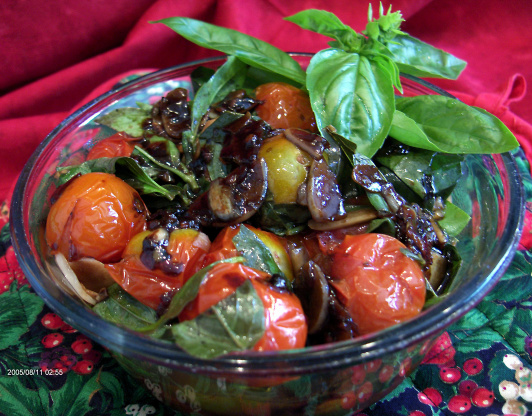 Boy, is this delicious! We ordered a bruschetta appetizer at a fancy restaurant on Hilton Head Island, SC. This recipe is as good if not better, than the roasted cherry tomatoes on the brushetta appetizer. I ate these straight up, in a tossed salad and on Italian bread to mop up the extra juice in the bowl.
Heat oven to 400°F.
Combine all the ingredients except the basil in a roasting pan.
Roast for 20 minutes, stirring occasionally, until the tomatoes are just bursting.
Carefully transfer the tomatoes to a bowl and set aside.
Place the roasting pan on the stove over medium heat (or transfer the liquid to a small saucepan) and reduce liquid until slightly thickened, about 5 minutes.
Toss the tomatoes with the basil.
Drizzle some of the thickened balsamic sauce on each serving.