Roasted Cauliflower With Vegies
VickyJ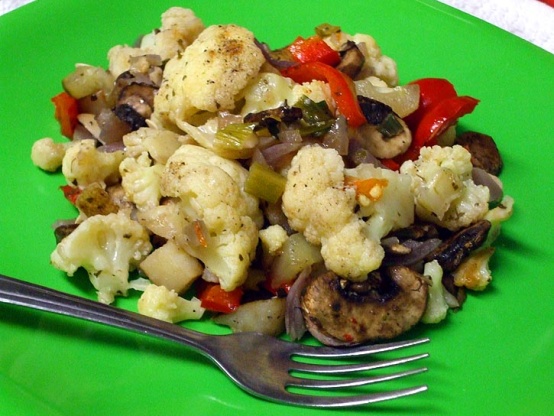 This is something I came up with when I wasn't in a meat mood. I love vegies and could very well be a vegetarian, if I didn't like everything so much. This is very easy; just vegies, olive oil and spices. You could have this as a main meal, by itself, with crusty bread/rolls or a side-dish to grilled meat or fish. This could also be done on the grill, see Note.

Top Review by Pixie
Simple, easy, delicious and healthy! I made this in the oven and served it with oven grilled salmon. Delicious combination. I had to sub green pepper for the red because it was what I had available, and think it would be even better with the red pepper. I also added a diced zucchini because I had one that needed to be used. I sprayed the tin foil with an olive oil spray and mixed a maybe 1-2 teaspoons of olive oil with the veggies to drop the calorie count but not the taste! Really great way to make veggies, I know I will be trying this on the BBQ next summer. Thanks for posting this.
Preheat oven to 400°F.
In a large bowl, mix cut-up vegetables, oil and spices.
Line sheet pan with aluminum foil.
Treat with 1 Tbsp of olive oil.
Cover with another piece of foil to cover. Cut a couple of slits in the top for steam to escape.
Bake for 20-35 minute Ovens vary, so you might want to increase the time.
Place on serving platter or individual plates.
Note: This could be foil packet (large piece of foil wrapped around vegies, done on the grill (or broiler)).