Roasted Beets With Potato Garlic Sauce-Patzaria
Jostlori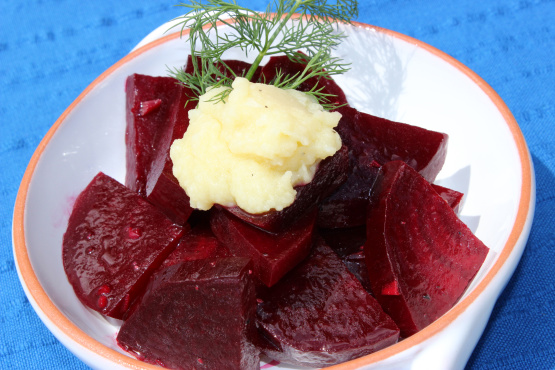 This sounds like a yummy dish! Beets are a favorite of our family. Recipe from Californiagreekgirl.com The second set of ingredients are for the garlic sauce. The making of the garlic sauce starts at the potatoes. Cooking time us for the beets.

This was very good. I enjoyed the combination of the beets, potatoes, and garlic in a way that was different to me. It was a great accompaniment to a blackened halibut recipe, and since I had extra beets left over I threw them in a salad.
Wash beets and cut off greens. Wash and cook the greens by boiling in water, or they can be sauteed with a little olive oil.
Wrap beets in foil and place in a sheet pan and bake in a 350 degree oven for 1 hour.
Test with knife for soft center.
Let cool slightly. Unwrap and peel beets. Cut into quarters or slice.
Place in a bowl and add garlic, olive oil, vinegar.
Add the salt and pepper to taste.
Serve warm or cold.
Can be made 1-2 days ahead of time.
Garlic Sauce.
Place unpeeled potatoes in small pot and bring to a boil. Reduce heat to cook until ready. Test with knife for soft center.
When cooled slightly, peel. and place potatoes and garlic in medium bowl and mash.
Add vinegar, salt and pepper.
Blend thoroughly.
Can be served at room temperature or cold.
Can be made ahead 1-2 days.