Roast Duck Legs With Red Wine Sauce
JustJanS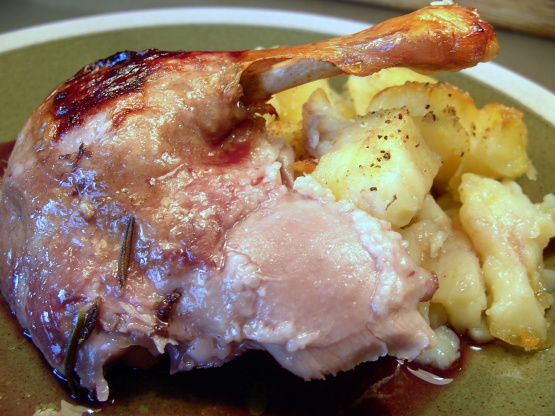 You could try this recipe using a half leg of lamb - same amount of cooking time would be needed .

Yummy duck thanks Kate. I used a whole duck which I stuffed with half the rosemary and about 3 cloves of garlic, then sat it on the other half of the rosemary and another 3 cloves of garlic, I sprinkled some red chili flakes over too. I baked it in my clay pot for two hours before pouring the sauce over and finishing it with the lid off for 15 minutes more. I was a bit worried that 5 spice (Asian) and rosemary and red wine (very European) wouldn't be quite right, but it was great.
Heat oven to 190 C.
Place duck legs in single layer in a roasting pan on a bed of rosemary sprigs and garlic cloves.
Sprinkle them with salt and five spice powder.
Roast for one hour.
Meanwhile place wine and jelly in a pot and simmer on a low heat.
Stir to dissolve jelly, simmer 5 minutes.
Spoon off almost all the fat from duck.
Pour wine mixture around duck.
Roast further 15 minutes until sauce reduces.