JustJanS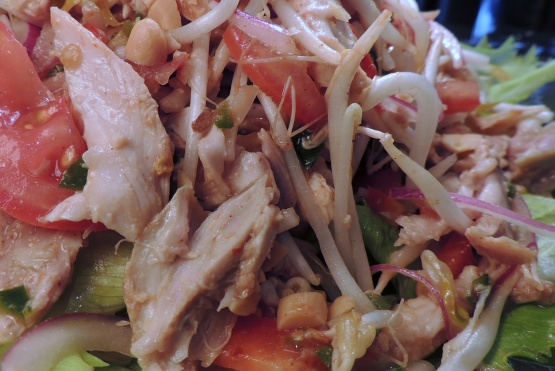 A Neil Perry recipe, I just have to try on one of those busy nights, when I have not much time! But I might cut down on the salt/chilli to half what is listed.

I used half the chilli powder, no salt (lots in there with the fish sauce) and added a cup or so of sprouts and some capsicum into the salad. I was worried the dressing might be too tangy and need more sugar than stated, but it was perfect and the star of this super quick dinner. Maybe the best way I've ever found to use a chook I bought cooked from the supermarket. Thanks for posting Tis.
To make the dressing, mix all the ingredients together in a small pot and bring to the boil. Remove from the heat and leave to cool or refigerate.
Remove the chicken from the bones and slice thickly across the grain. Put the chicken, onion and tomato in a bowl, drizzle with the dressing and gently toss together. Put the lettuce on a serving plate and arrange the chicken salad on top. Sprinkle with peanuts to serve.
Variation: This is a salad where you can interchange chicken for duck, beef, lamb, quail or even prawns to create a lively, fresh tasting dish.