Risotto With Asparagus and Sun-Dried Tomatoes
lazyme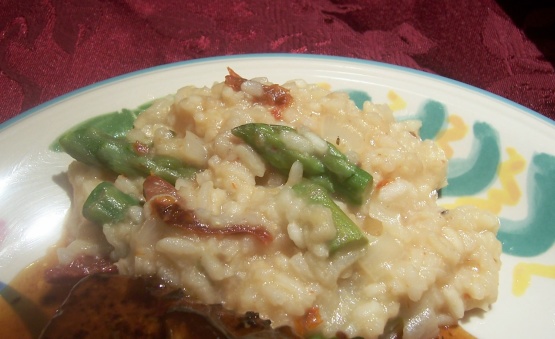 I love risotto and am always trying new versions. This one incorporates two of my favorites - asparagus and sun-dried tomatoes. It is simple enough, but as with any risotto, you do a lot of stirring. I usually add more asparagus and tomatoes than called for here.

I really liked this but, unfortunately, DBF did not. He found it too mushy, although I thought it was one of the firmer risottos I have eaten. I did find it a little bland, so I added quite a bit of pepper as I ate. I used a few extra tomatoes and chopped them up to get better dispersal through the dish. Even though risotto is not the easiest thing in the world to make, these directions were clear and concise, making my first (and possibly my last) attempt at risotto a success (at least in my mind). Thanks lazyme!
NOTE:.
Zaar won't let me enter this in the ingredients section, so the 6 cups of chicken broth should actually consist of the cooking water from blanching the asparagus, and then adding enough chicken broth to measure the 6 cups.
Blanch the asparagus in a large skillet or pan of rapidly boiling water 2-3 minutes or until vivid green. Remove the asparagus from the pan and reserve the cooking water. Measure the cooking water and add stock to equal 6 cups and pour into a saucepan set over low heat. Allow to come to a low simmer.
Cut the asparagus into 1-inch pieces. Melt the butter in a large pot set over medium heat and add the chopped onion, rice, and all the asparagus except the tips. Stir this mixture until the rice and vegetables are coated and the onion becomes translucent.
Add 1/2 cup of the simmering broth and cook, stirring until the liquid is absorbed. Continue adding the broth slowly, 1/2 cup at a time, stirring until it is absorbed. Work slowly and do not add more broth until the previous 1/2 cup is fully absorbed. Work until all the broth is absorbed. Taste the risotto; it should be firm but not hard and the mixture creamy. If it is still tough, you may need to add more broth (bring to a simmer first).
Off the heat, gently stir in the reserved asparagus tips along with the remaining ingredients. Serve immediately.