Ridiculously Easy Chicago-Style Pizza Pie
rpgaymer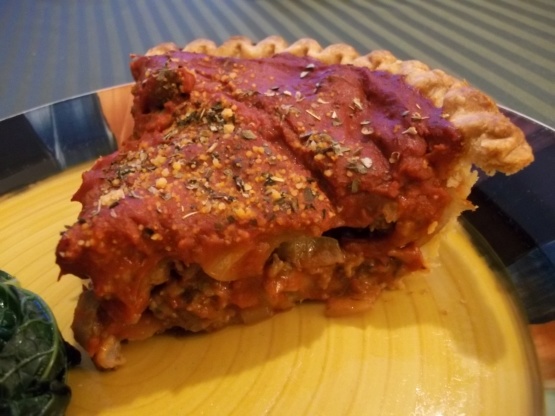 Chicago-style pizza is great, but it can be a pain to make and way too expensive to buy from a restaurant... so I came up with this easy-to-make recipe. The best Chicago pizzas usually feature cornbread crusts, but the pie crusts make a surprisingly tasty substitute! I use this recipe by Dan-Amer #1 for the sausage (http://www.food.com/recipe/homemade-bulk-italian-sausage-chicago-style-329000), but store-bought sausage should work just as well.

Being from the Chicago area, and having been to Chi Town numerous times, we have had deep dish pizza plenty of times, and this one ranks up there. I left out the salt and pepper, used the parmesan cheese, and the italian seasonings. I would recommend the italian seasonings on this. Very easy to prepare too, This does top one of the famous pizza eateries in Chicago by far, I won't mention who, because I do not know if I can, so with that being said, next month when I go to Chicago we will stop by one of the Chicago sports legends restaurant, and have a steak sandwich instead. Very easy, and very very good. Made for PRMR tag.
Preheat oven to 400°F.
Bake the pie crust according to your package's directions. I usually prick the bottom and sides of the crust all over with a fork and bake it for 10 minutes, or until it becomes slightly golden. Remove, and set aside.
Brown the sausage for about 5 minutes in a large pan over medium-high heat. Add the onion and mushrooms and cook for a further 5 minutes, or until the sausage is cooked and the onions are soft and translucent. Drain of any excess fat. (You can add salt & pepper at this point depending on how salty/spicy your sausage is- I usually don't).
Sprinkle the mozzarella and parmesan on the bottom of your pie crust. Top the cheese with the sausage mixture, and spread it out evenly. Next, spread the pizza sauce over the top, making sure the filling is completely covered. Finally, you can sprinkle the Italian seasoning and grated cheese on top, if you wish.
Bake for 30 minutes. Let cool for at least 5 minutes before serving.