PanNan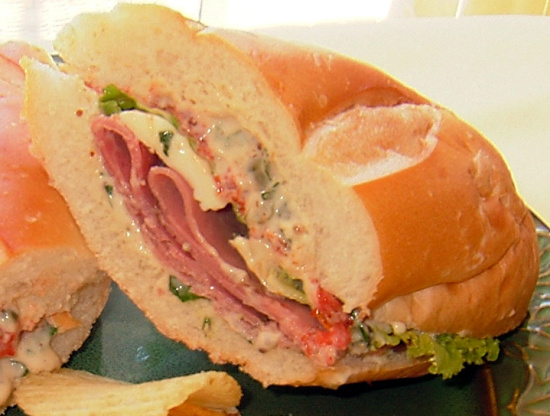 This recipe came from the USA cookbook. A friend emailed this to me, and it is a nice meal to have on a hot night. I usually serve it up with a nice crisp salad, and fresh fruit for desssert. Hope all enjoy.
Preheat a grill or broiler, setting the rack 3 inches from the heat source.
Grill or broil the skin side of the tomato halves until just slightly charred (15 minutes for the grill, 8 minutes for the broiler).
Sprinkle the cut side of the tomatoes with salt and pepper.
Set them aside.
Halve the bread lengthwise and scoop out the inside, both top and bottom of the loaf.
Spread each cut side of the bread with the Remoulade Sauce.
Arrange the roast beef evenly over the bottom half, and lay the cheese diagonally over the meat.
Top with the lettuce.
Place the reserved grilled tomatoes on the top half of the bread, and mash them just slightly with a fork.
Invert the top over the bottom half of the sandwich, cut it in half crosswise, and serve immediately.
Remoulade Sauce:.
Combine all the ingredients in a small bowl.
Taste, and add more Tabasco, a drop at a time, if desired.
Refrigerate, covered, until ready to use, up to 8 hours.
Makes about 1 1/4 cups.
U.
S.
A.
Cookbook.