Boomette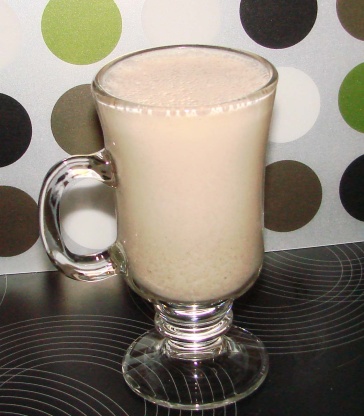 This sounds good if you like rice pudding! Recipe is from Rachael Ray.

Made for ZWT-8 Family Picks, this as an insanely creative idea for a smoothie! I took heavy cues from the other reviewers. Like Sydney Mike, I subbed a frozen banana for the ice cubes since I dislike the watered-down effect that melting ice creates in a smoothie. I also used a well-frosted glass for its chilling effect. All reviewers agreed about the need for a sweetener, so I added 1/2 packet of Sweet & Low. My only negative was that 1 tbsp of vanilla extract made that flavour excessive for a single serving. This is another appealing "dessert in a glass" recipe that also uses up leftover rice (if it's still very moist) & is also worthy of making rice just to make the smoothie. I liked this a lot. Thx for sharing this recipe w/us. Edited to Add that I used my stick-blender w/a wide-mouth lrg jar to make this recipe in a flash. :-)
Using a blender, mix the milk, cream cheese, vanilla and cinnamon and blend until smooth.
Add the ice cubes and blend on high speed until slushy, about 15 seconds.
Add the rice and pulse for 5 seconds.
Sprinkle with nutmeg.
Garnish with the cinnamon stick.