Rellenos De Papa (Stuffed Mashed Potatoes)
dude7519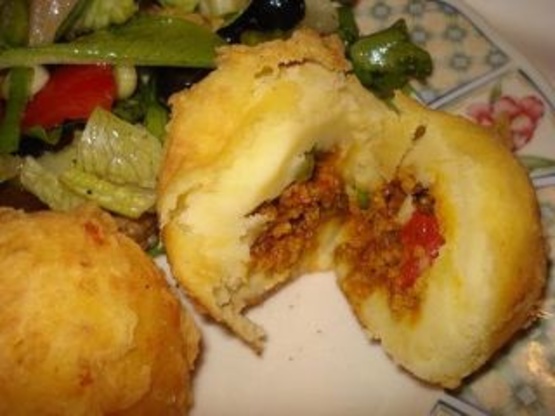 I found this one at a Puerto Rican website (El Boricua.com) when I was not able to get a hold of GMa to tell me how to make them. :) It makes the process way much simple than the traditional. Yummy yummy!

Top Review by Kamark
These are good! We used leftover mashed potatoes rather than potato flakes, and that worked well for us. We stuffed them with picadillo, and that was super yummy. These are definitely best the day you make them; the day after they somehow seem a lot greasier.
Bring water to a boil and remove from heat.
Add margarine, salt, pepper, garlic powder, and milk. Stir until the margarine is melted.
Add the potato flakes. The mixture should be pretty thick and dry.
Add a slightly beaten egg and mix well.
Let the potatoes sit to cool down.
Divide potato mixture into 6 balls.
Sprinkle corn starch on one hand and carefully spread one of the potato balls on your hand pushing down in the middle.
Place a tablespoon of prepared picadillo in the middle carefully folding the sides over the meat until it is completely sealed.
Roll the stuffed balls in corn starch - this will help keep the mixture together during frying.
Fry over medium-high heat until golden.
Note: all purpose flour can be used instead of cornstarch.