AmyZoe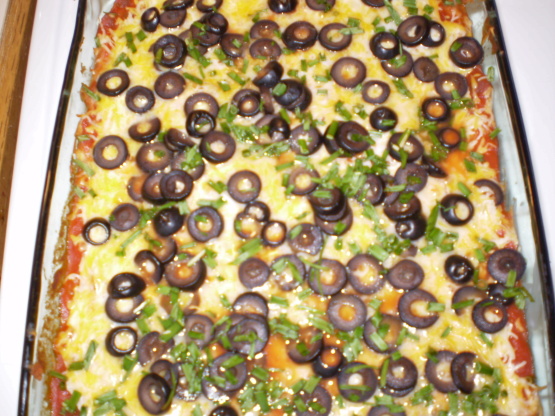 This recipe was posted on athriftymom.com, and I doubled the recipe (except the quantity of cheese I left the same as posted). Some of the portions weren't listed exactly so feel free to adjust to your liking or add more cheese. I must confess, I added a litte sour cream, salsa, taco seasoning mix, and cheese to the refried beans. Then I did another layer of salsa. If you're not a salsa fan, you'll probably want to use less. I also used chives instead of green onions because that's what I had. This is good as a dip, but I also thought it was good inside taco shells for lunch or dinner. Tortillas would also work well. You may find that half the recipe is sufficient instead of the doubled ingredients below. Thank you A Thrifty Mom for the great recipe! Serving size is estimated.
Use the back of a spoon to spread cream cheese in bottom of 13x9" pan.
Spread beans on top (or add anything to the beans you want for additional seasoning).
Add a layer of salsa on top of beans.
Layer 2 to 3 cups of shredded cheese on top.
Add sliced olives and green onions and serve cold or bake at 350 for 30 minutes.