Reese's Peanut Butter Cups - No Bake
cartroy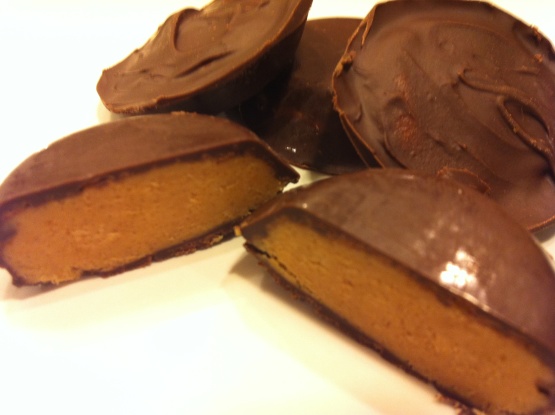 I have been making these Peanut Butter cups for almost 40 years now... This is my families favorite! If you love Reese's peanut butter cups then this is a must!

these were so easy!! i made them in a silicone mini tartlet tray. i coated the tray with a thin layer of melted chocolate, then rolled about 3/4 tsp filling into a little ball, flattening with my hand so that it would fit perfectly into the trays. i topped it with more melted chocolate and then turned them out after they had firmed up. (that's my picture posted with the recipe... the silicone tray is what made the bottoms so shiny and perfect.) my kids LOVED them! :)
Mix together - Peanut butter, melted butter, brown sugar.
Stir in - Powdered Sugar & vanilla.
Melt Chocolate chips in double broiler or microwave.
Line up muffin pans with paper baking cups inside.
With a rubber spatula, drip some chocolate on the bottom of all the baking cups, then layer with peanut butter mixer, then add more chocolate on top. No thicker than 1/4" each.
Let cool in the refrigerator for 15 minutes to harden.
Peel paper, eat and enJOY!
*For a fast and easy recipe just spread the peanut butter mixture on a cookie sheet (with a lip) then spread melted chocolate over the top. Cool and then cut into squares.