SEvans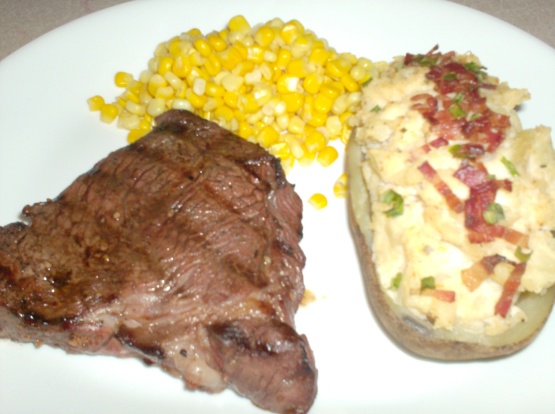 This is an absolutely delishious marinade i accidentally made up in a hurry. I only marinated my beef for 2 hours - but if I had given it overnight it would have been stupendous. The herbs are at your discretion - a little goes a long way.

This recipe is definately a keeper!!! I made this up using a good quality steak and cutting them into kebobs...perfect for OMAC. This recipe makes alot for one meal, so I cut the recipe in half. I did make some changes to suit our needs... used 3 garlic, 2 T olive oil, 1 tsp chili paste and 1 T fresh rosemary. I would definately do this one again...we loved it!!! Kudos on a great recipe...I would do this one again!
combine All ingredients
put steak in a baggie or glass dish - turn meat occasionally to ensure even marinating.
pour marinade over - seal and refrigerate from 2 hours to overnight.
the longer you marinade the more absorbtion you get and the better the steak will taste.