pines506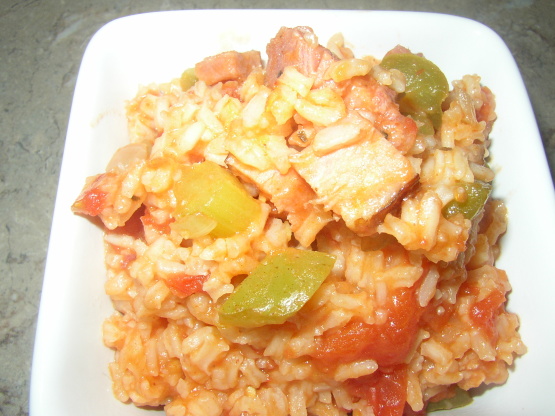 Yummy! This is great as a main dish or leave the meat out and use as a side!

Oh this was so good! Even my husband liked it! *faint*. A simple to put together top of the stove main dish that is hearty and so perfect on a damp cold night. I had some leftover roast pork loin that I used in place of the ham but I do think that the ham would be a bit better. I really like the fact that the dish came out very mild and thus was enjoyed my my hubby and I could add the hot sauce to mine. It cooked a lot quicker than the recipe said. I skipped cooking the veggies and added the rice right away with the sauces. I added some water and the rice was cooked and the veggies perfectly done in 20 mins. I used long grain Jasmin rice. It's very forgiving and I think that it would lend it's self to many adaptations or additions. We'll see this made again soon.
Heat the oil in a 4-qt pot over medium heat.
Add the ham, onions, celery, and green peppers and cook until the vegetables are wilted.
Add the tomatoes, tomato puree, salt, pepper and chili powder.
Lower the heat to simmering and simmer, covered 30 minutes.
Measure the sauce and, if necessary, add enough water to bring the volume to 5 cups.
Stir the rice into the liquid and heat to boiling.
Reduce the heat to very low and cook, covered, until the rice is tender about 45 minutes.
Stir once or twice during cooking to prevent sticking.
Check the seasonings and add hot sauce to taste.