Red Lobster Cheddar Bay Biscuits Copycat
Ashley Cuoco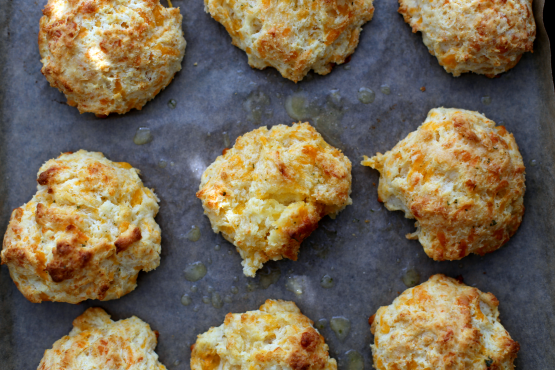 These are copycats of the delicious "Cheddar Bay Biscuits" served at Red Lobster.

I've made this recipe several times and I'm amazed how closely it tastes to the biscuits at Red Lobster. However I am always surprised why people tell you how much they like the recipe (five stars) and then tell you how they changed the recipe! Come on, it's no longer a copycat recipe at this point. This doesn't mean I might not try their suggestions in the future but if I review a recipe it will be based on the exact recipe.

Read more: http://www.food.com/mail/view?msgid=3769547#ixzz1qPbNZvzZ
Heat oven to 450 degrees.
Mix bisquick, milk and cheese until a soft dough forms.
Drop by spoonfuls onto an ungreased cookie sheet.
Bake 6-8 minutes or until golden brown.
Mix butter or margarine and garlic powder.
Brush mixture over warm biscuits before removing from cookie sheet.