Red Lobster Bananas Foster Cheesecake Clone
Rob W.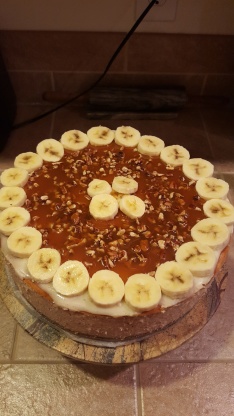 MMmm another banana foster cheesecake recipe....this one is from red lobster.

~excelant choice for my first cheesecake from scratch~ had this cheesecake at red lobster and had to have the recipie and YES this is melt in your mouth perfect. *And as a footnote if i can make this anyone can
Position rack in center of oven and preheat oven to 350 degrees F.
Wrap outside of 9-inch diameter springform pan with 3-inch-high sides with heavy-duty foil.
Combine flour, pecans, butter, sugar, brown sugar and vanilla in large bowl.
Mix well.
Press mixture onto bottom of prepared pan.
Using electric mixer, beat cream cheese in large bowl until smooth.
Gradually beat in sugar.
Beat in cornstarch.
Add eggs, one at a time, beating until just blended after each addition.
Add pureed banana,sour cream, lemon juice, vanilla, cinnamon and salt.
Beat just until combined.
Transfer filling to crust-lined pan.
Place pan in large roasting pan.
Add enough hot water to roasting pan to come one inch up sides of springform pan.
Bake until center of cake is just set, about 1 hour 15 minutes.
Remove cake from oven.
Maintain oven temperature.
Meanwhile, prepare topping.
Mix together sour cream, sugar and vanilla in small bowl until well blended.
Spread topping over cheesecake.
Bake until topping is set, about 10 minutes.
Turn off oven.
Let cake stand in oven until cooled to room temperature, about 2 hours.
Refrigerate cake until well chilled.
Cover and refrigerate overnight.
Cutaround cake to loosen; remove pan sides.
Transfer cake to platter.
Warm caramel sauce in small saucepan over low heat, stirring often.
Mix in rum.
Drizzle some sauce decoratively over cake.
Arrange bananas atop cake.
Cut cake into wedges and serve with sauce.