Ohana Bread Pudding With Bananas Foster Sauce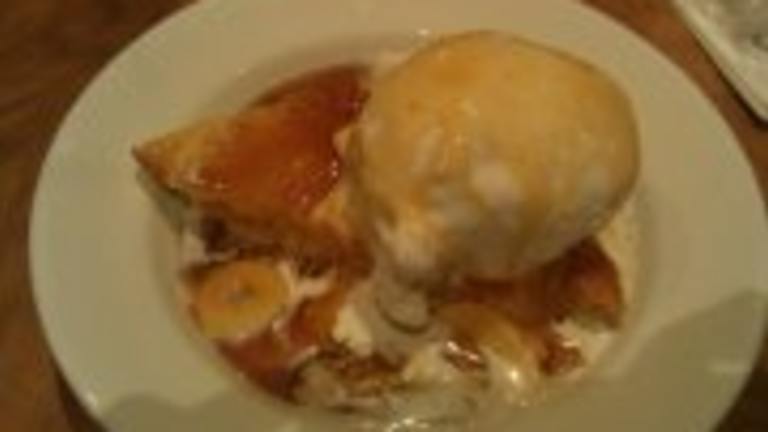 These are just the ingredients for the greatest bread pudding and banana foster sauce from Disney's Restaurant.
Ready In:

30mins

Serves:

Units:
directions
I am not sure of the directions, the post on Disney's All Ears Website was taken down (they replaced it with cheesecake)and I only wrote down the ingredients for shopping. But if anyone knows them please post them!

Here they are:

TO MAKE THE BREAD PUDDING:

Preheat oven to 350 degrees F. Grease large baking dish with butter.
In large bowl, whisk eggs, milk, salt, sugar, cinnamon, and nutmeg.
Cut bread in 1/2-inch cubes. Add bread, pineapple, coconut, and raisins (if desired) to egg-and-milk mixture. Add bread custard mixture to the greased baking dish.
Bake 1 hour and 10 minutes. Remove from oven. Let stand 5 minutes.

MEANWHILE, MAKE THE BANANA FOSTERS SAUCE:

In a saucepan, combine dark brown sugar, corn syrup, butter, and half of the heavy cream. Using high heat; bring to a rolling boil. Allow mixture to boil 10 minutes.
Add remaining heavy cream. Let it boil additional minute.
Now add the rum and vanilla extract. Carefully flambe pan using a long stemmed lighter. Let boil until the flame goes out. Reduce to a simmer and stir with a high heat spatula.
Peel and slice bananas; add them to the caramel sauce. Remove the caramel from the heat and set aside.

TO SERVE:

Place scoop of ice cream on top of each portion of bread pudding. Top with bananas Foster sauce.

Recipe note:

Make the sauce as bread pudding is baking to have both hot and ready to serve at the same time.
Makes 6-8 servings.
From: Disney's Polynesian Resort.
Submit a Recipe Correction
RECIPE MADE WITH LOVE BY
"These are just the ingredients for the greatest bread pudding and banana foster sauce from Disney's Restaurant."
I used this scrumptious sauce with another recipe from this site-a Caramelised banana and rum bread pudding (it suggested a chocolate rum sauce, but I preferred this sauce) and it was to die for as a combination, but this sauce is so good and easy -do be careful about the flames-they do burn pretty high, hot and long (we finally dropped a lid on it to extinguish them) but let me tell you the result was the best sauce for this bread pudding recipe that I tried and I think it would be wonderful served over ice cream too. Thank you.

Here are the instructions, from another site: <br/><br/>Bread Pudding: <br/>In bowl mix eggs, milk, salt, sugar and nutmeg. Set aside.<br/>Cut bread in medium pieces, place on cookie sheet pan put in 350 degree oven.<br/>Bake bread until lightly toasted, about 15 minutes. Remove bread and place in egg and milk mixture.<br/>Place mixture in a greased 10-inch cake pan and bake at 325 degree for 1 hour.<br/>Let stand 5 minutes, serve hot with ice cream.<br/><br/>Sauce:<br/>Combine sugar, brown sugar, corn syrup, butter and half of heavy cream in a large pan. Bring to a boil and slowly add remaining heavy cream keeping mixture at a steady boil.<br/>Add spiced rum and flambe.<br/>Candy will brown slightly; cook 3 minutes until candy forms into a firm ball in cold water. Remove from heat and add vanilla. Add sliced bananas. Serve warm.<br/><br/>I'm making this for the second time this weekend -- it's FABULOUS and brings back yummy memories of the Poly!