Directions
In a bowl, combine milk and lime juice; mix well.
Mixture should thicken.
Add Cool Whip and food coloring if desired.
Fold in raspberries.
Spoon mixture into pie crust.
Refrigerate at least 2 hours before serving.
Most Helpful
Wow! I agree this is a super easy and tasty summer pie. You can also "skinny" it some with fat-free condensed milk and Cool Whip. I also liked crushing the berries in my hand before folding them in.
Super easy! I had everything on hand. I did use a baked pie shell instead of the graham crust. I liked the combination of the lime and raspberry. Very fresh tasting. I could see using other combinations of juice and fruit.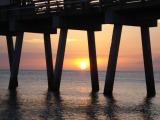 This is the most amazing desert. I was wanting something cool and refreshing and got it! I will definatly make this again sometime soon! Thanks for sharing!