Rachael Ray's Garlicky Holy Guacamole!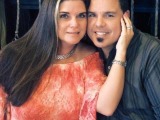 Very easy and full of flavor.
Directions
Cut avocados in half around the pit.
Separate the halves.
Pop out pit with spoon, then scoop flesh of avocados into a bowl.
Squeeze the juice of a lemon over the avocados. (Squeeze the juice with the lemon halves facing cut-side up, allowing the juice to spill down over the sides of the lemon into the bowl. This method keeps the seeds in the lemon and out of the guacamole.).
Add garlic, jalapeno, tomato, onion and salt to the bowl.
Mash and mix the ingredients into a chunky dip using a fork.
Serve with corn tortilla chips.
Most Helpful
This dip tastes incredible!
Usually, I love Racheal's recipes but this one was just ok for me. I don't know if my lemon was too juicy...the avocados were not terribly small...but this was just too lemony for my taste. Next time I'll try half a lemon and up the garlic.

We enjoyed this with tacos over the weekend, I increased the jalapeno to two as we love extreme heat! thanks for sharing hon!...Kitten:)