Rachael Ray's Buffalo Chicken Meatballs
Mgnbos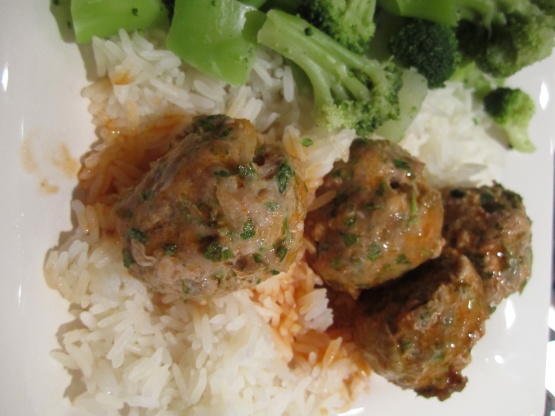 I saw this on the TV show and knew that I wanted to try these for a football party.

Okay...these were delicious. I made them cocktail size, baked them, put them in the sauce and froze for a week. The night before our get together I took them out and let them defrost slowly. Put in a crockpot the day of the party on warm and they were perfect all day. I served with my secret homemade Blue Cheese Dressing. They were a hit. I have now had 3 requests to make these. New Years Eve to be the first. BTW...I did add one egg. Thanks for posting the recipe Paula.
1

lb ground chicken breast (all-white-meat)
1⁄2 small onion, grated

2

garlic cloves, grated
1⁄2 cup parsley, chopped
salt & freshly ground black pepper
extra virgin olive oil, for drizzling

2

tablespoons butter
1⁄2 cup hot sauce, Frank's Brand
blue cheese dressing, for dipping

3

scallions, green and white parts thinly sliced, for garnish
carrot sticks
Pre-heat oven to 400ºF.
In a large mixing bowl, combine the ground chicken with the onion, garlic and parsley and season with salt and freshly ground black pepper.
Flatten out the meat in the bowl and score it into four portions using the side of your hand. Shape each portion into four balls – you should have sixteen meatballs in total.
Wash your hands after handling the raw poultry.
Arrange the meatballs on a nonstick sheet pan and drizzle them with extra-virgin olive oil.
Place in the oven and bake until the meatballs are cooked through and golden brown, about 10-12 minutes.
While the meatballs are baking, melt the butter in a large skillet over medium heat.
Add the hot sauce and whisk to combine.
Toss the baked meatballs in the hot sauce to coat.
Serve the meatballs with a bowl of blue cheese dressing garnished with scallions, celery and carrot sticks alongside.