Rachael Ray's Buffalo Chicken Pot Pie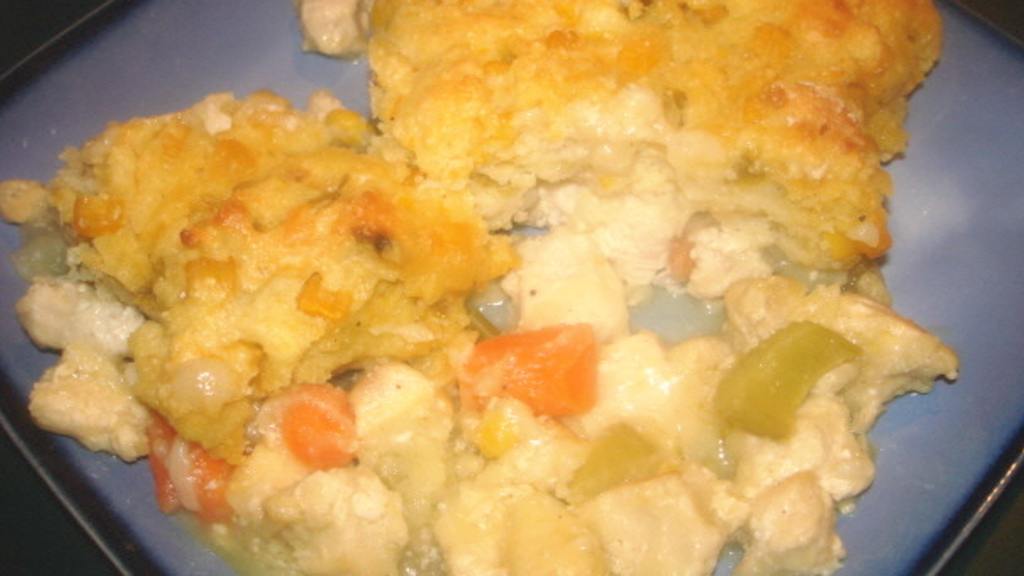 Ready In:

1hr

Ingredients:

14
directions
Preheat oven to 375 degrees Fahrenheit.
Heat 2 tablespoons of EVOO (extra virgin olive oil) in a large skillet over medium-high heat.
Add the chopped chicken chunks and sauté them on both sides until golden brown.
Remove chicken chunks from skillet and reserve on a plate.
Add another 2 tablespoons of EVOO, onion, carrot, celery and garlic to the same skillet and cook, stirring occasionally, until the vegetables are tender, 5 to 6 minutes.
While the veggies are cooking start the sauce. In a medium-size sauce pan, melt the butter over medium-high heat; stir in the flour and cook until light brown, about 1 minute.
Whisk the chicken stock and hot sauce into the butter/flour mixture and bring it to a boil.
Simmer the gravy until thickened, 2 or 3 minutes.
Return the reserved chicken chunks to the skillet with the cooked vegetables.
Add the gravy, stirring to combine.
Transfer everything to a 9x11" casserole dish and set aside while you prepare the topping.

TOPPING:

In a medium-size mixing bowl, prepare the cornbread according to package directions.
Stir the blue cheese crumbles into the cornbread mixture and drop spoonfuls of the batter onto the top of the casserole, covering it completely.
Bake the pot pie until the cornbread is baked through and the filling is hot, 20 to 30 minutes.
Join The Conversation
I love this recipe! I first saw it on Rachael Ray and have been making it ever since. Such a great potluck dish. I double the chicken and veg and use half of the cornbread mix (I'm canadian so we use bisquick here) and depending on the audience, I double the hot sauce and/or blue cheese. This is also an amazing base recipe for a simple pot pie (sans pasty crust) that can be adjusted by adding more veggies (mushrooms, peas, red peppers) and changing up the meat and seasoning for the gravy. It's a wonderful easy dinner that can appeal to a crowd!

Made a few changes, but nothing that detracted from the flavor or the resulting pie, I thought ~ I used large chicken breasts, just one box of the cornbread mix, & then used feta cheese instead of the blue cheese! The chicken pot pie was delicious & well worth making, & the recipe will be kept around for future use! Thanks for posting it! [Tagged & made in Please Review My Recipe]

Made a few changes, but nothing that detracted from the flavor or the resulting pie, I thought ~ I used large chicken breasts, just one box of the cornbread mix, & then used feta cheese instead of the blue cheese! The chicken pot pie was delicious & well worth making, & the recipe will be kept around for future use! Thanks for posting it! [Tagged & made in Please Review My Recipe]