loof751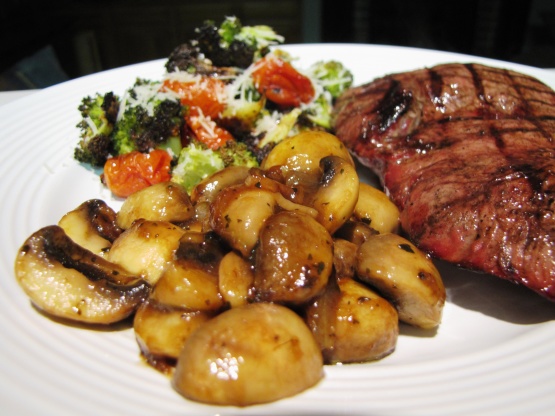 A simple fry-pan cooked mushroom -lowfat version for my New Years Resolution to lose some weight. Great served on toast with egg, serve on top of steak or chicken. For a gluten-free or lactose free then check your stock powder is suitable (I use Massel brand-GF, vegan, lactose free and all natural). For a creamier sauce use low-fat cream or evaporated milk in place of the water. I've noticed that the nutrition panel seems to be picking up on the extra olive oil-it's optional and only needed if your mushrooms require. Instead of the extra oil you could use a little water.
Heat the oil in a non-stick frying pan over medium heat.
Add the garlic and onion -stir until the onion has softened. Add the stock powder and dried basil. This should take roughly 3 minutes.
Add the cut mushrooms and continue to cook for another minute. Add the extra oil if required to moisten the mushrooms. Season with salt and pepper to taste.
Mix the cornflour with a little water in your measuring cup. Add more water to bring to the 1/4 cup measurement of water. Mix and add over the mushrooms. You can use cream or evaporated milk in place of the water if you wish.
Continue to cook and stir until done to your liking. I prefer to keep my mushrooms chunky.
Serve over toast, steak or chicken.