Chicken With Mushrooms and Mustard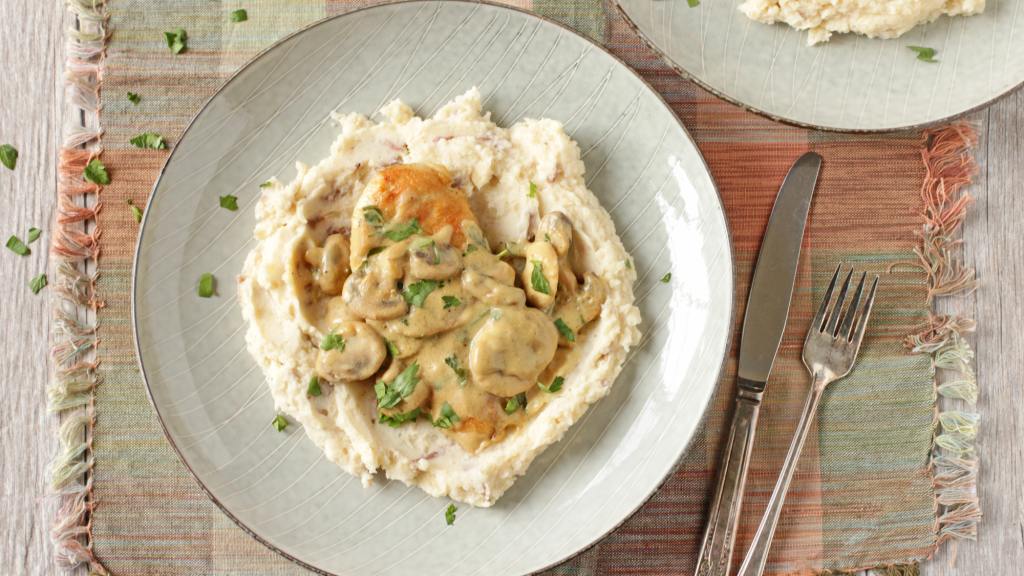 Ready In:

30mins

Ingredients:

10
directions
Pound breasts until 1/4" thick.
Dredge in flour mixture.
Heat oil over medium heat.
Add chicken and saute about 7 minutes, turning once.
Remove and keep warm.
Add butter to frypan and increase heat to high.
Add onion and mushrooms.
Saute about 5 minutes.
Reduce heat to low.
Add cream, parsley, mustard and lemon juice.
Bring to a boil stirring constantly.
Add juices from chicken into cream mixture.
Pour sauce over chicken and serve.
Join The Conversation
I just made this! my family loved it. used boneless skinless chicken thighs, perfect. Used 1 pound of baby Bella mushrooms, cut some thick and diced some Perfect Served over mashed potatoes. Perfect. but wait for it.... tripled the sauce!!!!! I also salt and peppered the thighs before dredging them used 2 pounds. Also added some garlic to the onions and mushrooms. this is a keeper!

Excellent recipe. I did change and use chicken thighs, boneless and skinless simply because they have more flavor and don't dry out like breast meat. I added more mushrooms and doubled the sauce. It is delicious. I will make this again for sure. I also cut the thighs into about 4 pieces instead of leaving whole. This is an easy quick weeknight dish but also can be fancy enough for company.

This is a play on the original 'Chicken a la King' recipe, excluding wine or brandy. I made it, as I am a Calorie Counter, wanting to keep my calorie intake down. I used Fry Light, Sunflower Spray instead of oil, and Fry Light Butter Spray to saute onions/mushrooms, on low heat. I added 1 tbs of fresh thyme, because reading the contents, this recipe appeared pretty tasteless to me, and I doubled the mushroom content. Plus made Thai rice to add some texture, as opposed to mash, presented in the picture. It's an easy recipe, as is 'Chicken a la King', an old staple. If you are not counting Calories, add either wine or brandy for de-glazing, it really will liven this rather bland recipe. I will save some Cals to do this next time! However, thankful for a recipe near to one I had nearly forgotten.

I don't know what chicken breast halves look like, not sold in uk but I made escalopes as stated (If breasts had been particularly plump I would have chopped them). Didn't bother with 'pouring chicken juices in', just returned the chicken to the sauce - the lovely, beautiful, tasty sauce!!! I don't see this as a 'restaurant' meal, just the type of meal my parents & grandparents cooked - long before French-inspired 'sauce' meals became trendy (and being working-class Brits, they didn't experience restaurant dining until after the wars either, but did cook sauces themselves as domestic servants)! I assume this is mashed potato in the pic, I was going to mash but because the veg cooked quick, I left the potatoes in chunks (typical British presentation); served with carrots, chopped cabbage, peas & sweetcorn. That's the first time, I have made it many times since with mash & rice, even cornmeal. Superb with anything!!!