Quick Greek Spinach and Chicken Orzo
Linky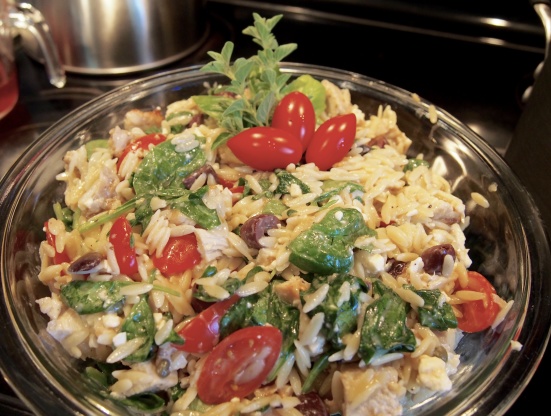 This is adapted from a recipe I found in a cooking magazine I get. This is great for brown-bagging because it tastes good at any temperature, and it's really quick to make. If you are salt sensitive, omit the bouillion cubes and olive brine (not essential, but I like the flavor they add).

Made this delicious dish today for lunch. We both loved it and while it does make a lot of pasta -- it's all the better because you can have leftovers : ). I used some leftover grilled chicken and everything came together very quickly and easily. Will definitely make this again as it includes everything I usually have on hand. Made for ZWT9 - Greece, July, 2013.
Bring a large pot (needs to be quite large because you will need to have room to mix once you add the bulky spinach) of water to boil with the bouillon cubes. Add orzo and cook according to directions on box (approximately 10 minutes). Drain and return to pot.
Stir in all other ingredients and cook over medium heat for about 2 to 3 more minutes to heat everything through.
NOTE: If you want to use only the white meat chicken in this dish (which is what I have to do for my family) and your chickens are small, you may want to purchase two rotisserie chickens to guarantee that you'll have enough meat. Reserve the dark meat for another use. Serve warm, at room temp, or cold.