Quick and Easy Chicken Quesadillas
lazyme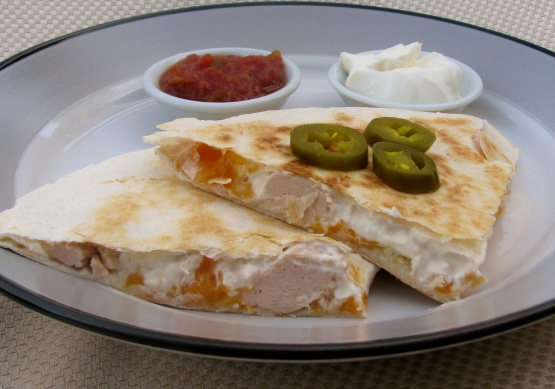 The jalapeno cream cheese adds the special kick to this recipe...I've made it without and it's good, but definately use it if you can find it!! Sometimes I will double the recipe for a light dinner, or make as below for a snack or appetizer. NOTE: Sadly, I don't think they make jalapeno cream cheese anymore, so I usually just use regular cream cheese and chopped jalapenos...use as many or as little jalapenos you want for your desired heat level.

Top Review by OzMan
I tried these last night, with the only change being that I could not find the flavored cream cheese so I added diced jalepeno to regular cream cheese. These were very good with little effort and would recommend them as a great snack for kids as well as adults. Thanks! :)
In a small bowl, mix chicken, cheese and cream cheese.
Evenly divide chicken mixture over each of 4 tortillas.
Top with remaining 4 tortillas.
Lightly spray each side of quesadilla with nonstick cooking spray.
Place quesdillas on baking sheets.
Bake at 400 degrees F for 12 minutes or until golden brown, turning once halfway through heating.
Cut into wedges.