Quiche on the Run - for One
Diana 2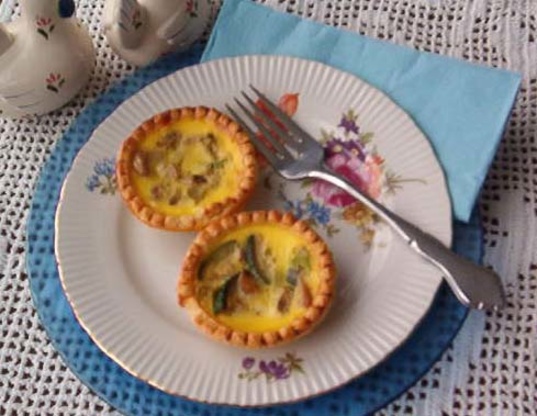 I love quiche, but unfortunately I'm the only one that does. Therefore, making a standard size would be a total waste. With this recipe, I can enjoy my little treats, while having a nourishing meal. These do not take a lot of time to fix, and because they heat up so well, are a great time saver. I find that two are quite sufficient for me. You could have a great lunch by adding a small salad to go with it. The occasions actually, are endless. Hmmmm, and it's almost lunch time too. If you're not into onions and zucchini, you can easily substitute with your favourites. How about "Mini Lorraines" ? As far as the type of cheese goes, try to use something on the milder side. Swiss, or a light cheddar works well. I've also gone 'bold' before too! The Tex-Mex mixes are wonderful. Experiment, and Enjoy!!!

Easy and delicious, Diana. I kinda missed having a leetle nutmeg...but wanted to make it by the recipe. Thanks for posting. Made for Unreviewed Tag.
Preheat oven to 350*.
Place the 24 tart shells on a large 11 x 15 cookie sheet. Leave to thaw while you prepare the filling.
In a saucepan, melt butter. Add green onions, zucchini and mushrooms. Saute until tender-crisp. Drain, if necessary and set aside.
In a bowl with a pouring spout, or large measuring cup, beat together eggs, cream, salt and pepper. Set aside.
Divide the cheese evenly among the tart shells. Top with the sauteed vegetable mixture. Carefully pour the egg/cream mixture to fill. *Note* you may have an excess of egg mixture, depending on how much 'additives' you have.
Bake for 20 minutes, or until the crust is a light brown and the filling is set. Allow to cool. Or -- you can serve them now ;).
Freezing:.
Place the cooled tarts on styrofoam meat trays, and slip into freezer bags.
Reheating:.
I preheat the toaster oven to 350* and heat for 10 - 13 minutes, depending on how many are in there.