ImPat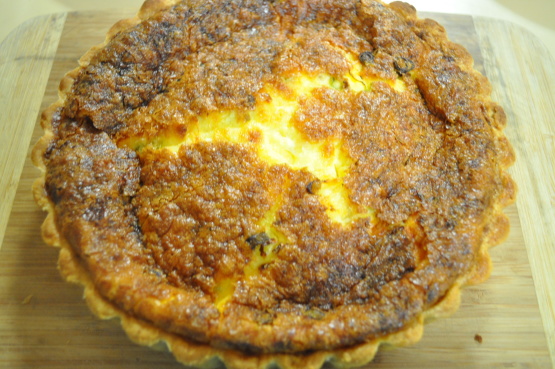 A good quiche makes a marvelous supper dish or brunch with a green salad or, if cut in smaller wedges, a good appetizer before the main course. For Shrimp Quiche, substitute one cup of small shrimp for the bacon.

Top Review by ImPat
My quiche tray is 18.5cmx4cm deep (approx. 7 1/4"x1 1/2") and I had about just under 1/2 cup of the liquid mix left and put in the oven for 15 minutes at 200C fan forced and then took a further 45 minutes at 170C fan forced to cook through. The quiche was not firm but soft and creamy and delicious and the 3 of us enjoyed our portions (with some left over for breakfast or lunch tomorrow). I used my own pastry recipe of recipe #177343 for the crust and for dietary purposes subbed spring onion for the onion and used a pinch of salt and 1/2 teaspoon of black pepper and a vintage cheddar cheese. Thank you Olha, made for ZAAR Cookbook Tag.
Use 9 or 10 inch pie plate or quiche pan.
Cook the bacon until crisp, remove it from the pan, and cook the onion in the drippings until soft. Sprinkle bacon, onion and cheese in pastry shell. Lightly beat the eggs with the cream, salt and pepper and add to the bacon, onion and cheese mixture. Bake (on rack below centre of oven) at 425°F for 15 minutes. Reduce heat to 350°F and bake for a further 15 minutes or until a knife inserted in the centre comes out clean. Serve warm. Makes from 4 to 6 servings.
The Best of Canadian Living.