Bergy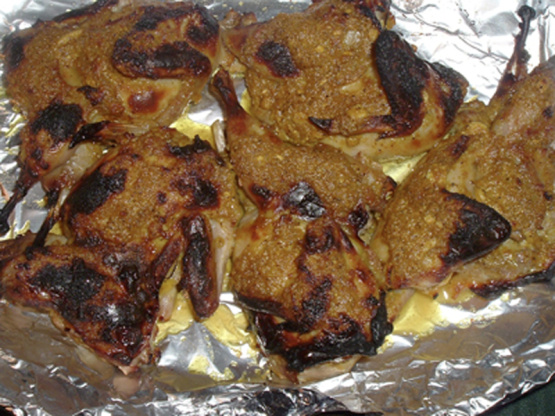 This is from Charmaine Solomon's Encyclopedia of Asian Food, one of my most used cookbooks. The toasted rice gives a lovely crisp finish and the marinade is delicious.

Top Review by Bergy
I used this recipe for roasting my Christmas Quail dinner and I am so happy that I chose it. When I first looked at the spices I was concerned that it would be like a curried hen and although there is a hint of curry flavor this is a very rounded blend of spices that gives an exotic flavor. Watch you don't burn them with the marinade they could get very brown quite quickly. I used an apple brine and brined them for only 6 hours before marinating them for 6 hours. the combination of brining & then marinating them was wonderful The birds were succulent. Thanks Jan for a memorable Christmas dinner
Using scissors or poultry shears, split the quail down the backbone and open out flat-I like to remove the backbone, and pull the tiny breast bones out (it's easy).
Rinse and clean the cavity, and if the birds have been frozen, dry well with paper towel.
Crush the garlic with the salt until very smooth, then mix in the remaining ingredients.
Rub the mixture well into the quail, then cover and marinate at least 1 hour or overnight if time permits.
Remove from the marinade, reserving it.
Preheat a grill or broiler and cook, turning and brushing the quail at least twice with any remaining marinade.
It the marinade is too thick to brush on, dilute it with a tablespoon each of oil and water.
Cook until the quail are brown and crisp and done to your liking. I cooked our to medium and it took about 10 minutes.
*Toast the rice in a dry pan, then grind with a mortar and pestle, the ground rice helps give the quail their nice crunchy coating.