Parsley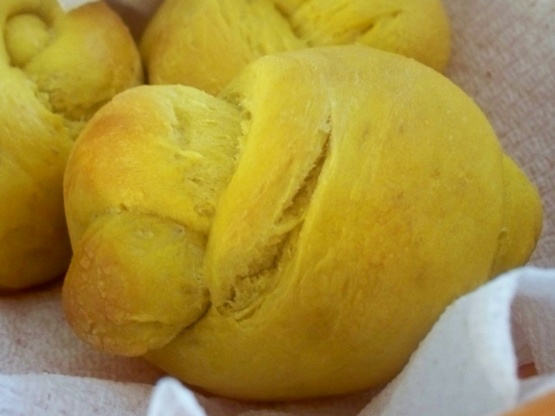 These are the softest and most delicious rolls I've ever had. There's NOT a bit of pumpkin flavor....the pumpkin just seems to add moistness and color. My father and brother (who don't eat pumpkin) love these rolls when I make them at holiday dinners. I have to make a double batch because some people just sit and fill up on these rolls instead of dinner. They stay soft for days if wrapped. Prep time includes the waiting time for rising.

Super, delicious rolls! The dough is easy to work with. To shape the rolls I rolled the dough into two rectangles, approximately 10"x12". I then used a pizza cutter to cut each into 4 sections, 3"x10", and then cut each of those sections into three 1" strips. It was quick and easy to get evenly-sized rolls. I found that the rolls did not brown very well at 350 degrees so I baked the second pan at 375 and got better results. The rolls were very pretty, light and fluffy, nice and moist. They tasted divine, and NOT like pumpkin! Thanks for a great recipe, Parsley!
In a large mixing bowl, dissolve the yeast in the warm milk. Add butter, sugar, pumpkin, 2 eggs, salt, and 3 cups flour. Stir in enough of remaining flour to form a soft dough. Turn onto a lightly floured surface----knead until smooth and elastic-like (should take about 5-7 minutes). Place in a large greased bowl and turn once to grease top. Cover with a clean towel or paper towels and let rise in a warm place until doubled---takes about 1 hour. Punch dough down; turn onto lightly floured surface; divide in half. Shape each portion into 12 balls (so you'll have 24 balls total). Roll each ball into about a 10" rope; tie into a knot and tuck ends under. Place 2 inches apart on greased baking sheets. Cover again with towels and let rise until doubled---takes about 30 minutes.
Meanwhile, in a small bowl, whisk together water and 1 remaining egg. When rolls are done doubling again, brush them with the egg wash. Bake at 350 for about 15-16 minutes or until lightly golden brown. Remove and serve or place on wire racks to cool slightly. Serve warm or cooled with butter or honey butter.