JazerS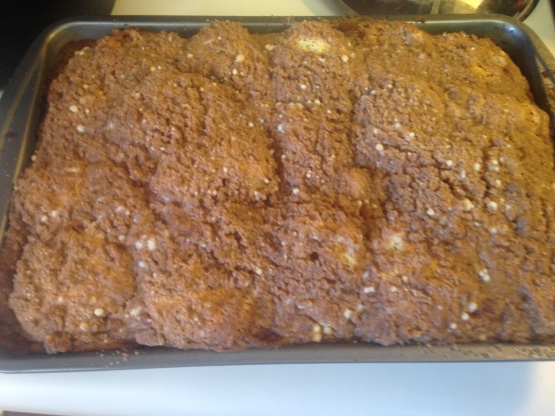 Please don't pass this by because of all the ingredients. It's really very easy and quick. It's also very delicious

What a way to welcome Fall! Better than Entenmann's (& we grew uo with Entenmann's!) Got up early today & made for DH & our houseguest - Wonderful texture! Creamed the butter & sugar for a couple of minutes & then added the eggs one at a time beating well. Sifted the dry ingredients & added 1/3 at a time, alternating with the sour cream - used 1 1/2 cups sour cream. Reduced sugar in pumpkin mix & topping (used 1/2 cup in pumpkin & 1/2 cup in topping) - this is simply outstanding. Perfect cakey texture with the smooth pumpkin & crunchy top contrast - 4 people ate over 1/2 in one brunch (lottsa calories to work off today!). Thank you Carol for a real keeper - easy enough to make in the am (I am not a good am person) & turns out fancy enough for guests!
Grease or spray the bottom of a 9x13 pan.
Mix together first 8 ingredients.
Pour 1/2 of the mixture in the 9x13 pan.
Prepare the pumpkin exactly like the pumpkin pie recipe on the can of pumpkin except you only use 1/2 cup of evaporated milk Or just mix together the next 8 ingredients.
Pour all of the pumpkin mixture over the batter in the 9x13 pan.
Pour the remaining half of batter over the pumpkin (this step is a little difficult-it's ok that the pumpkin mixes in a little with the batter) Make the topping, put over batter.
Bake in a 325 degree over for 50-60 minutes.
Let cool completely.
Enjoy.