Pumpkin Cake With Cream Cheese Frosting
PaulaG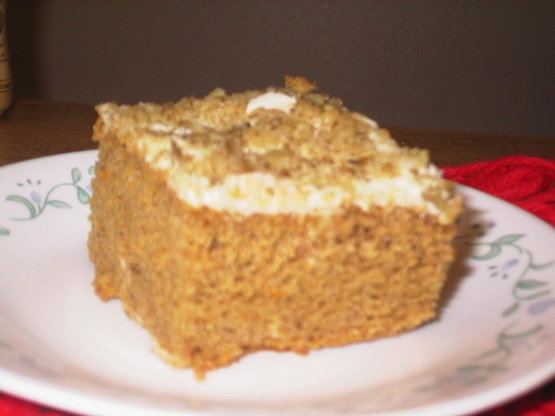 This recipe is a lighter version of an old classic. It was printed in the December 2004 edition of Prevention Magazine.

My daughter really wanted me to make a pumpkin cake, so we chose this one. She really likes it. She's had 2 slices so far and gives it 5 stars. We did not use the ginger or walnuts, dure to her taste buds. Thanks!
Spray a 13 x 9 inch non-stick cooking pan lightly with cooking spray and set aside.
Preheat oven to 350 degrees.
In a large bowl begin mixing the cake by adding the Splenda, brown sugar, oil, egg substitute and pumpkin.
Mix until well blended.
Add the flour, baking powder, baking soda, non-fat dry milk powder, cinnamon, cloves and salt; mixing well.
Pour batter into prepared pan and bake 25 to 30 minutes or until a toothpick inserted into center comes out clean.
Cook cake completely before frosting.
Prepare the frosting by beating the cream cheese, butter, vanilla, maple flavoring, Splenda and confectioners sugar in a medium bowl with electric mixer until well blended.
Frost cake, sprinkle with crystallized ginger and chopped walnuts.