Pumpkin Biscotti With White Chocolate
Charmed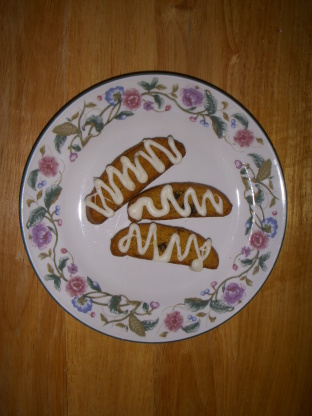 I included them on my Christmas cookie platters this year, and everyone made a point of telling me how good they were. I found the recipe on the web. The raisins were my idea. Dried cranberries would be as good, if not much, much better. Or leave them out completely. Both light and dark brown sugar work beautifully, although I think I like the dark brown sugar version just a tiny tad more. I used good-quality white chocolate chips mixed with about 1/2 teaspoon of shortening for the drizzle. And if you can, use freshly ground nutmeg. Also, you can use up to 3/4 cup raisins or dried cranberries. Any way you try it, I think you'll love them. (Time does not include chilling time.)

I'm not sure how to rate this because once I was able to make the biscotti, they were very good and flavorful, however, if you've made biscotti before, you would note that the dough is not like biscotti dough at all. It's very sticky and hard to work with. I made some of the dough into a dozen cookies first before deciding what to do with the rest of the sticky batter. I ended up scooping the dough and placing the plops right next to each other and then using a spatula to spread the dough out into a "log" shape. I then proceeded in cutting and second baking the biscotti, which did turn out and tasted great. The modifications I made were as follows: I used 2 cups of flour, switched the nutmeg and cinnamon measurements (so there was more cinnamon) and added a dash of cloves. I also reduced the butter to 1/4 cup as per my other biscotti recipe that I love. Overall, I think it's a great flavored recipe and, like I said, makes great biscotti, but it's a lot of work, especially if you've never made biscotti before.
Sift together the flour, baking soda, baking powder, salt, nutmeg and cinnamon, set aside.
Using a mixer, beat the butter and sugar on high speed until light and fluffy. Add the eggs, vanilla, pumpkin puree and orange zest. Continue to beat until well blended.
Add the flour mixture and beat at low speed until just incorporated. Stir in the raisins or dried cranberries, if desired.
Refrigerate about 1 hour.
Preheat the oven to 350°F Line a baking sheet with parchment. Divide the dough in half.
Using lightly floured hands, shape each half into a log about 10 inches long. Place the logs a few inches apart on the baking sheet and bake about 30 minutes, or until brown and firm to the touch.
Place the logs on racks and let cool 10 to 15 minutes.
Transfer to a cutting boad and slice each log on the diagonal into 12 slices. Place the cooling rack on the baking sheet and arrange slices cut side down on rack.
Bake until golden, about 15 to 20 minutes. Watch carefully to avoid burning, and turn once if needed.
Remove the slices to a rack to cool completely.
Melt the white chocolate (add shortening to chips if using them) and drizzle the biscotti with the chocolate.
Refrigerate briefly to set the chocolate.