Puff Pastry Cheese Stick Appetizers
Rita1652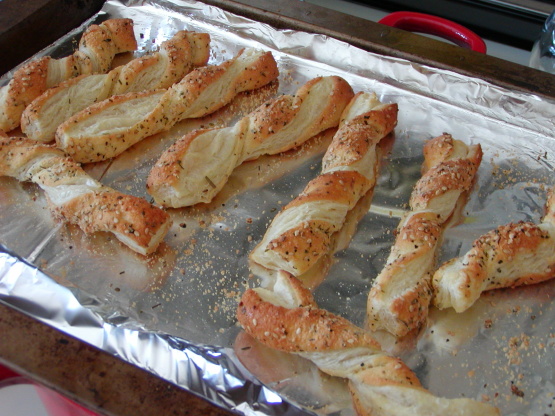 These are quick, fabulous, and definitely a crowd pleaser :) hope you enjoy them! They will keep in a tightly covered container for about 4 days, but they are best served right from the oven. Instead of using the herbs you can also try this recipe using poppy seeds or caraway seeds!

Top Review by pete-e
REALLY GOOD!!!! I did a few things differently that saved dishes and time if anyone is interested. 1. I just used whipped egg whites and "painted" both sides rather than using a long baking dish. 2. I used parchment paper to bake them on and they come off very easily! 3. If the pastery you use comes frozen in rolls on wax paper, leave the sheet of pastry on the paper, paint with egg white and sprinkle with the cheese mix. Then place a piece of wax paper over the sheet and "Flip" it over. Remove the origional sheet of paper and repeat. Then cut and twist and bake. I ran out of the suggested cheese so mixed in chedder and it was good too. Lots of flexibility with this recipe. It's great.
Preheat your oven to 400°F.
Then take a bowl, and a cheese grater (or food processor) and grate cheese into the bowl, or in the food processor.
Add your herbs, garlic powder, pepper and sesame seeds to the cheese, and stir to combine.
Beat eggs in a long baking dish.
Dip both sides of defrosted dough in the beaten eggs and dredge it lightly in the cheese mixture.
Then take the seasoned sheets of dough and place them on sheets of wax paper.
Using a pastry wheel, cut dough into 6x1 inch strips.
Then take those strips, and twist each of them into spiral shapes and place about 1 inch apart from one another on a foil-lined baking sheet.
Bake your cheese sticks in the oven and bake for approximately 15 minutes.
Using a wide spatula, carefully remove from pan and serve.