From the Toronto Star. Adapted from Gourmet. Updated on July 7, 2010 to include the quantity of water needed (oops)
Directions
SOFRITO:.
Puree the cubanelle, onion, garlic, cilantro, tomato and hot peppers (if using) in a food processor.
RICE:.
In a large dutch oven, heat the oil over medium heat.
Cook the ham, stirring occasionally, until it starts to crisp (about 4 minutes).
Add the sofrito, olives and capers.
Cook, stirring, until the liquid evaporates (about 5 minutes).
Add the rice.
Cook, stirring, until is sizzles (about 2 minutes).
Stir in the peas or beans, water and salt.
Bring to a simmer and simmer, uncovered, over medium-high heat until almost all the liquid is absorbed (about 10 minutes), reducing the heat to medium once the water is below the level of the rice.
Stir gently.
Reduce heat to low, cover and cook, undisturbed, for 30 minutes.
Fluff with a fork.
Let stand for 10 minutes.
Reviews
Most Helpful
I really enjoyed making the sofrito, and used 2 hot peppers to really ratchet up the heat. I also doubled the amount of ham, so this would be a hearty meal, and used green pigeon peas, which I have never had before! Even though I was very careful, I had to keep an eye on the rice to keep it from sticking to the pot. The seasoning was just right, and we had a very nice dinner. Made by a Tasty Tester for ZWT9.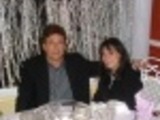 This is good and easy and I bet how it'd done in households all across Puerto Rico!
What a great recipe! Sofrito was easy and making it fresh really made the dish. I made this for international day at my daughter's school to honor our PR heritage and it was a hit. Will definitely be making this again.