Authentic Puerto Rican Rice and Beans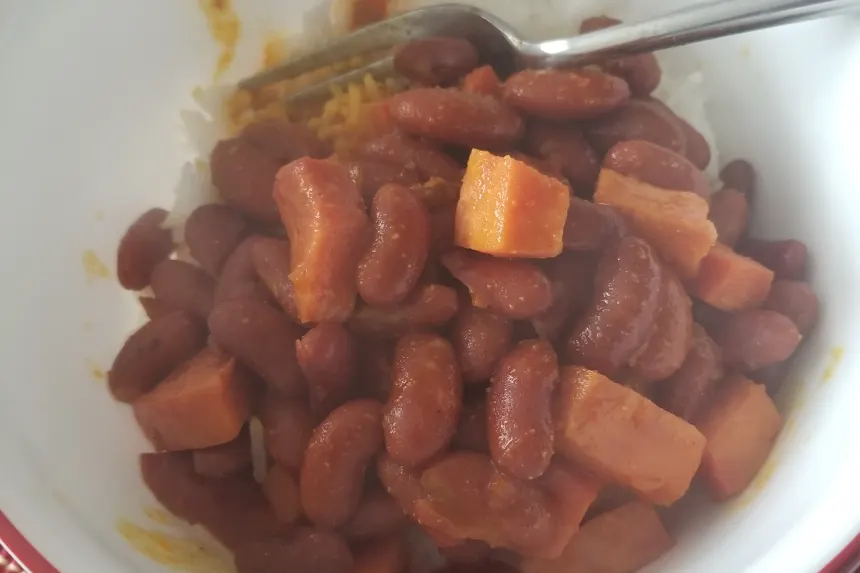 photo by Margaret O.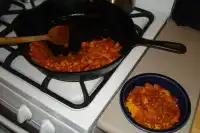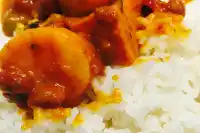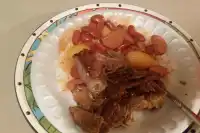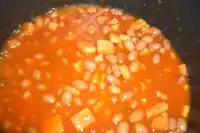 Ready In:

20mins

Ingredients:

8
ingredients
1

(16 ounce) can red kidney beans (habichuelas coloradas) or (16 ounce) can pink beans (habichuelas coloradas)
1⁄2 teaspoon adobo seasoning (a flavored salt used in latin cooking)

1

tablespoon vegetable oil

1

1 slice salt pork or 1 slice Canadian bacon, cubed
1⁄2 teaspoon garlic powder

1

(5 g) packet sazon con azafran seasoning (comes in envelopes in a box, gives color and a distinct flavor to latin dishes)

1 1⁄2

tablespoons sofrito sauce (comes in a jar, a necessary ingredient in Puerto Rican cooking)

1 1⁄2 cups white rice, uncooked
directions
Made by Goya brand and can be found in the Spanish/Latin section of your grocery store Cook white rice as instructions on package of rice say to (5 minute rice is perfectly fine).
make sure when you are done cooking to let excess water out of rice.
In saucepan, heat oil on low-medium heat and put in the ham, salted pork, or Canadian bacon.
once it starts to sizzle, add the garlic powder and Adobo seasoning.
Then add the Sofrito and Sazon con Azafran seasoning, stir.
Next add red beans (drain most of liquid, just a little bit is needed to pull the sauce together).
Mix and serve.
(in Puerto Rico, it is traditional to serve rice and beans with almost every meal, but mainly with pork chops (cooked with a little sofrito and adobo seasoning) on the side).
Enjoy (a wonderful recipe straight from the island).
Reviews
My dad was stationed at Ramey AFB many many years ago, and I was hooked on PR Rice and Beans! I have been looking for a recipe for it for many years and none of them sounded like what I remembered. I've noticed a lot of people added potato and tomato sauce, that doesn't sound like what I remember either (I was about 12 or so). When I saw you were from Aguada, I got really excited. We used to go to a place called Pepe's off base. Anyway, I made your recipe, I browned up some pork, added a bit more of the sauce, this was so good, thank you for posting this recipe...it really brought back a lot or memories when we lived in PR. I now have to make this for my brother. I will be making this again and again!

 

Not how good rice and beans are made - this is much like the goya version on the back of cans. Instead use homemade sofrito and tomato sauce. Chop a little onion, cilantro, garlic, red bell pepper, and cubanelle pepper for a makeshift sofrito if you are short on other ingredients (see below). Sofrito recipe: 4 cubanelle peppers, 1 red bell pepper, 1 large onion, 1 bunch cilantro, 10 ajicitos (sweet peppers), 2 recao leaves, 1 head garlic in a food processor/ blender. Use a couple tablespoons in beans, soups, stews etc. Freeze the rest.

 

Very good. The only thing that I did differently with the beans was to add more Canadian bacon that the suggested amount. Also, I I didn't have pink beans but used the small red ones (not kidney). This is actually better after it has sat in the fridge for a couple of days. I also made pork chops to go with it. I fried the 6 pork chops to brown them, sprinkling generously with adobo seasoing. Then I placed them in a lightly greased crockpot and added 1/4 cup water and 6 table. of the solfrito sauce and cooked until the meat was very tender. Served the beans and pork chops with plain white rice.

 

this is almost exactly how I make it and i learned from my Puerto Rico born MIL. you need to add some green olives in the beginning with a little bit of tomato sauce in those tiny cans like 1/2 and make your own sofrito and freeze it. Its easy the jarred stuff tastes gross but thats my opinion once you had real sofrito you wont go back. But these beans will have you addicted you wont make them any other way!!! (you can use deli ham or chunks cut from a left over dinner ham or ham steak anything works.) Very easy just remember to cook your sauce first to bring out the flavor.

 
Tweaks
I made this tonight for my Puerto Rican husband. He was craving so I decided to surprise him (1st timer). I emailed boricua_nena for the 'from scratch' version, but was able to find a recipe on this site for sofrito and a recipe on another site for sazon because I don't want to use pre-packaged msg laden versions. I used turkey bacon in place of the pork (we don't indulge). The end result... dh was very pleased, but it was too salty for my taste (I guess over kill from the sazon and adobo). I will make this again, only gave three stars because dh says it was missing something... tomato paste. I figure it's a matter of personal preference and varying family recipes. Thank you for sharing.