Provencal Tomato Sauce (Uses Fresh Tomatoes)
Deantini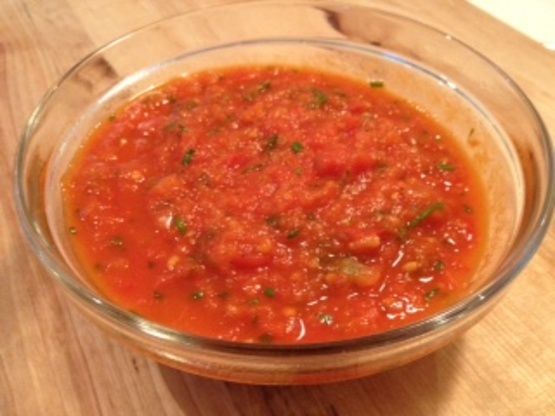 A simple tomato sauce using mainly fresh ingredients. Comes from Sundays at the Moosewood Restaurant. Its uses are endless!

Excellent! We had this with vegetables and pasta. The marjoram is great in it, I added even some more after cooking because I liked the flavour so much. Thanks for sharing!
Made for the Lively Lemon Lovelies for ZWT 8 / France
Heat the oil in a heavy pot. Add the onions and saute for about 10 minutes, until they are translucent.
Add in the garlic and bay leaves, let that saute about 5 minutes more.
Add in the tomates, salt, pepper and herbs - simmer for 20 minutes.
When the tomatoes have cooked down, add in the tomato paste and simmer for another 10 minutes. Adjust seasoning to your liking.
Remove the bay leaves and your sauce is ready!