Prawns in Spicy Tomato Sauce With Feta Cheese
Nimz1466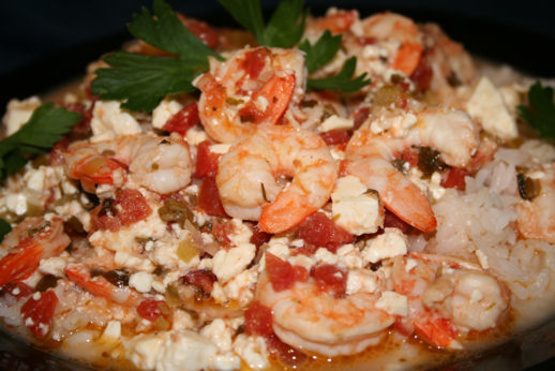 I came across this recipe in the most serendipitous manner...on my way to work going 50mph I saw some trash blowing across the road...it got stuck to my car and I could hear it fluttering all the way to work. When I got out of my car I found a piece of newspaper stuck to my front grill. I took it off and what was it? A torn out page from a week old newspaper that has 4 yummy sounding recipes! Wow. I feel obligated to post them now.

123 Hit Wonders 2007 ~ Loved the flavor in this. I cut the recipe down as there's just the two of us. Did some minor changes. As I don't have access to clam juice here, I made a fresh fish stock using a salmon head and tail I had in the freezer. I cooked the onions, garlic and celery for a few minutes before adding the (diced, not whole) tomatoes. I left out the whole tomato at the end. I would suggest not leaving the prawns in the lemon juice too long as the citrus will start to 'cook' them. I also added the lemon zest for more zing and like another reviewer, we like a bit of heat in our food also, so added some dried chili flakes to make it appropriate with the title. 15 minutes is too long for the prawns to cook as they became tough and rubbery. Next time I would saute them for 3-4 minutes and stir them into the mix just prior to serving. I served this with boiled potatoes. Enjoyed the story of how you came across this recipe. Thanks Engrossed!
Heat oven to 400°F.
Pour lemon juice over cleaned shrimps in a bowl and set aside.
Heat oil in a skillet, saute green onions, garlic, celery, parsley and canned tomatoes until celery is tender. Reduce heat, and simmer for about 20 minutes.
Add clam broth, cook for another 5 minutes and remove from fire.
In another pan, saute shrimp in butter until they are pink (Leave them a little undercooked as they will continue to cook in the sauce).
Pour the tomato sauce mixture into the bottom of a casserole dish; place the whole peeled and cored tomato in the center, surround it with shrimp; sprinkle entire casserole with oregano. Pour the white wine around the shrimp and sprinkle feta cheese over the shrimp and tomato center. Bake for 15 minutes or until feta melts.