Prawn and Chorizo Cakes With Tomato Salsa
IngridH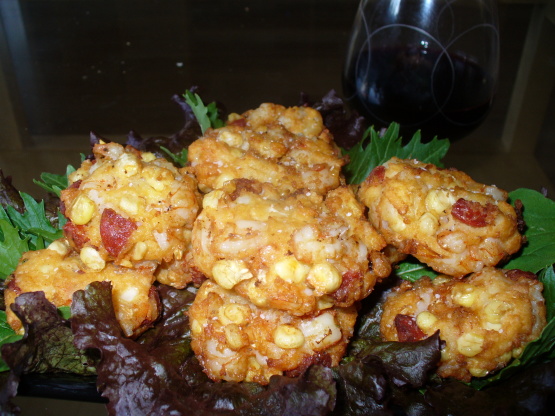 Flavoursome prawn and chorizo cakes served with a tomato salsa from Better Homes and Gardens, found online, but lots of people I've cooked for would love this - which is what drew my attention to it. From Wikipedia: In commercial farming and fishery, the terms prawn and shrimp are generally used interchangeably. In European countries, particularly the United Kingdom, the word "prawns" is far more common on menus than the term "shrimp", which is generally only used in North America. The term "prawn" is also loosely used to describe any large shrimp, especially those that come 15 (or fewer) to the pound (also called "king prawns"). Australia and other Commonwealth countries including South Africa follow this European/British use to an even greater extent, using the word "prawn" almost exclusively. In Spain, gambas al ajillo (translated to garlic prawns) is a popular dish with both the locals and tourists, traditionally served as tapas.

The flavor of these cakes is outstanding. I have to admit, I took some creative license, instead of pan frying, I used my deep fryer, and I have to say, I got a gorgeous result- golden brown, with no overly dark spots, and completely cooked through. I set the heat at 325, and cooked for 5 minutes, then sprinkled with kosher salt when they came out. As for the mix, I found that one potato was not enough (for a 1/2 recipe) so I added a 1/4 cup of instant mashed potatoes, which really helped hold the mixture together. I'd add a bit more spice next time, either more cayenne (if you like hot) or some smoked paprika (if you like mild). This is definately a recipe I would make again, especially if I had company to impress. Instead of the tomato salsa (looks good, but tomatoes are not in season), I just topped with some fresh lemon juice. Thanks for posting a great recipe! Made for ZWT5 by one of the Cooks with Dirty Faces.
2

desiree potatoes, unpeeled, chopped

1

onion, quartered

1

teaspoon coriander seed

1

corn on the cob

1

chorizo sausage, finely chopped

1

pinch cayenne pepper

1

egg

500

g green prawns or 1 lb green prawns
sea salt, to taste
cracked black pepper, to taste
olive oil, for frying

4

tomatoes

1

small red fresh chili pepper, thinly sliced
1⁄4 cup red wine vinegar

2

tablespoons extra virgin olive oil

2

teaspoons grainy mustard
sea salt, to taste
fresh ground black pepper, to taste
Put the potatoes, onion, bay leaves and coriander seeds in a large heavy-based pan; cover with water and bring to the boil; cook the potato until it is tender; drain and discard the onion, bay leaves and coriander and mash the potato with a fork.
Cook the corn cob in boiling water for 5 minutes until tender; drain, cool and remove the kernels from cob; add the corn kernels to the mashed potato; add the chorizo, cayenne and egg; and stir until all the ingredients are well-combined.
Peel the prawns, remove the veins and chop the flesh into small pieces; add to the potato mixture, season with salt and pepper and stir to combine; shape ¼ cupfuls of the mixture into patties.
Heat a small amount of the oil in a non-stick frying pan over a medium heat; cook 4 patties at a time for 3-4 minutes each side until the prawn pieces turn pink and the patties are golden.
To make the omato Salsa: Cut the tomatoes into quarters and remove the membrane and seeds; thinly slice the tomato pieces and put in a bowl with the chilli, vinegar, oil and mustard; season with salt and pepper and mix to combine; serve the Salsa with the Prawn and Chorizo Cakes.