sheepdoc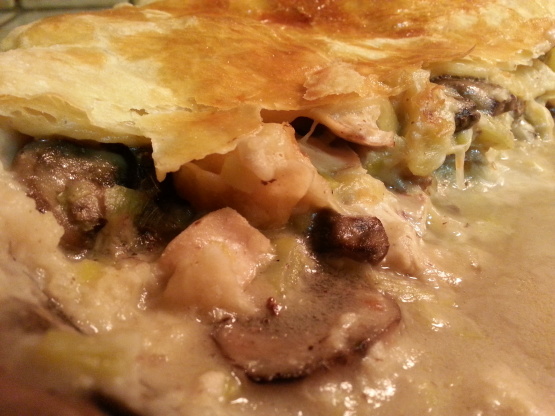 From a feature in our State paper with recipes through the ages. The recipe states 1 quantity of shortcrust pastry (frozen or homemade - let time and economy decide), I've estimated this to 3 or 4 sheets, sheets are about 22cm to 23cm square. Cooking and prep times are also estimated.

The bottom line was that it was tasty. Poverty - not really. We raise our own rabbits so the meat was cheap but leeks are pretty expensive and really hard to find. Purchased puff pastry is really pricey. I wasn't sure what short crust was so I used homemade pie crust. The preparation was more than I usually put in for meat pie and it took longer than I expected. I made one pie and baked at 350 for 45 minutes. Made for My 3 Chefs 2013.
To make filling.
In a large saucepan bring stock, water, onion and bouquet garni to the boil and then turn down heat and add rabbit and gently simmer, covered for 45 minutes.
Remove rabbit and cool and then pull meat from the bones and cut into bite sized chunks.
Meanwhile return liquid to heat and boil briskly to reduce to 1 1/2 cups, this usually takes 5 to 10 minutes.
In a saucepan melt butter and then add leak, mushroom and celery and sweat until soft and then add flour and cook for a further minutes and then gradually add warm stock, stirring well until sauce boils and thickens and then stir in cream and check for seasoning, fold rabbit through the sauce and allow to cool slightly.
To make the pies.
Roll out the shortcrust pastry and line small pie tins, filled with meat mixture and then cover with puff pastry. sealing edges with egg wash.
Cut a slit in the middle of the pastry top to let steam escape and brush the pies with egg wash and put into the oven for 15 minutes at 220C and then turn down to 200C for a further 10 minutes.