Potato Slices Made Like Potato Skins
Prep 20 mins
Cook 40 mins

Potatoes are sliced and baked, then topped with the makings of your favorite potato skins. Serve as a side dish or even as appetizers. These are so yummy!
Directions
Preheat oven to 400°.
Brush both sides of potato slices with butter and place on an ungreased baking sheet.
Bake for 30 to 40 minutes or until lightly browned on both sides, turning once during baking.
Remove from oven and top with bacon, cheese and green onions.
Return to oven and bake until cheese melts.
Serve topped with a dollop of sour cream.
Reviews
Most Helpful
These were good and easy to make. Next time I would season the potatoes before cooking. I would add some pepper and onion powder to the butter mixture next time. Ours took about 25 minutes to cook. We all enjoyed these.

Delicious! These were a huge success. The potatoes are nice and crisp (I cooked mine for 40 minutes) and the toppings are so yummy. I will definitely be making these again. Thank you!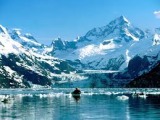 My family ate these all up, with NOOOO complaints! Just oohs and ahs! Now, I did bake the potatoes whole the day before when I was baking some for the night before. Stored them in the fridge, sliced them, heated them in the micro for 2 minutes...then added the other stuff, but had to use less butter, which was my main goal. I used all low fat ingredients: 2 % cheddar, turkey bacon pieces, fat free sour cream, and of course, topped with sliced green onions. :) Thanks for the idea...much easier than trying to hollow out baked potatoes!!!