Tisme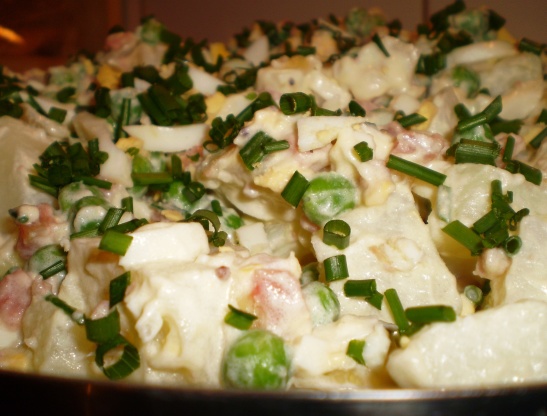 This mightn't please the people who only like potato in their potato salad, but this pleases my family.

Top Review by Tisme
Jan, my family adored this vegetables and all!
I followed the recipe nearly exactly, I added some chopped chives and cooked the bacon and onion in the microwave, and that was the only minor change.
I made this not for dinner but for DS and DD to take for lunches, as they love their potato salad. DS is a little bit of a potato salad connoisseur and if he likes it then it must be really good.
Well Jan he really loved this, he came home after a dinner out and ate a plate full then got up from the table and proceeded to make a container for lunch the next day.... he could not find one a container big enough!!!! lol
Then DD came home and did the same thing..... one complaint was ..... her brother had taken too much and there was not enough for her! Mind you she had a large container also!
Great simple and easy recipe to make, and the taste is fantastic, the sour cream just gives this salad a great edge!
Thanks Jan.
Bring a saucepan of salted water to the boil, add the potato cubes, and cook until tender, but not soft and mushy!
This usually takes about 12 minutes after they return to the boil.
After about 8 minutes, add the peas, and cook for a further 4 minutes.
Meanwhile, heat the oil in a frypan, and cook the onion and bacon for about 5 minutes.
Transfer to a bowl.
Add the cooked, drained potatoes and peas, the chopped eggs, and the sour cream and mayo.
Mix gently but thoroughly until combined.
We prefer to eat this immediately, but you can cool and chill it.
I also occasionally add chopped dill pickles and fresh dill.