Ms B.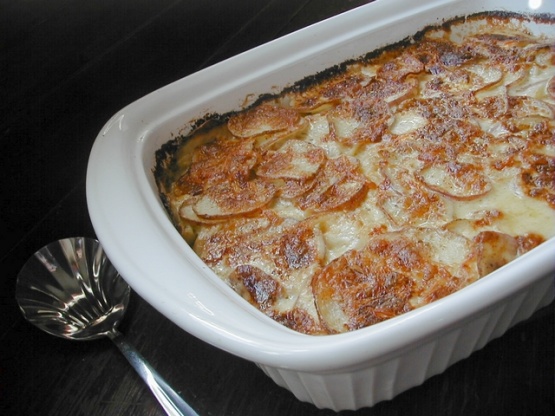 I adopted this recipe. The sauteed fennel and onion are a wonderful blend of flavors with the Gruyere cheese and potatoes. This is true comfort food stepped up a notch.

Wonderfully tasty, easy to put together and great even for company. I love fennel and potatoes so this was a hit at my house!!
Preheat oven to 350.
Butter inside of a 10x15x2-inch (10 cup) baking dish.
Remove stalks and core of fennel, slice thinly crosswise.
Saute fennel and onions in the olive oil and butter on Medium heat for about 15 minutes or until tender.
Peel potatoes, slice thinly.
Mix potatoes in a bowl with 2 cups cream and 2 cups Gruyere, salt, pepper and the sauteed onion/fennel mixture.
Pour into baking dish, press down to smooth.
Combine remaining 2 tbl cream and 1/2 cup Gruyere and sprinkle on top.
Bake for 1 1/2 hours until potatoes are very tender, the top is browned and bubbly.
Let set for 10-15 minutes before serving.