Potato & Cheddar Quesadilla
AmyMCGS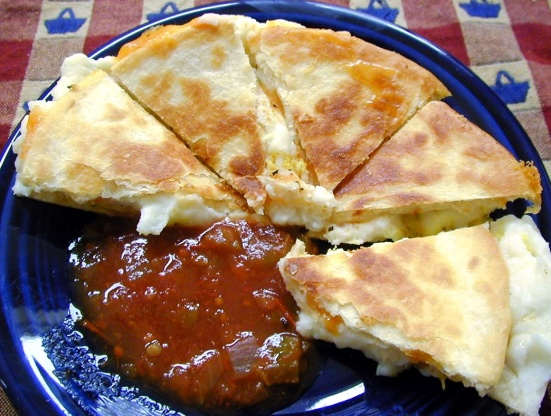 Here's my favorite way to use up left-over mashed potatoes. If your mashed potatoes are flavored with garlic, onions, etc. it's all the better. Measurements are approximate since I usually throw this together to use up leftovers in the fridge. If my potatoes are plain, I have been known to add a little chicken bouillon to give them more flavor. Serving size may vary- my two year-old DD and I share one of these for lunch. This definitely is not a "diet" meal, but, it's delicious!

This recipe was great. It was even better than I guessed it would be. I had used a small pack of instant loaded potatoes. I also used onion flakes and omitted the red pepper. Otherwise, I followed the instructions exactly. The quesadillas were very flavorful. My son loved them. He put buffalo sauce on his for a kick.
Place a skillet over medium-high heat.
Put a small amount of olive oil in a large preheated skillet.
Spread mashed potatoes on one tortilla, and place it potato side-up in skillet.
Top with shredded cheddar, spices, and any other optional ingredients that you are using.
Top with the other tortilla and cover the pan.
When cheese is melted & bottom tortilla is crisp, carefully turn over the quesadilla, and cook uncovered until the other tortilla is crispy (3-4 minutes).
Slice into wedges, and serve with salsa or sour cream for dipping.