Potato and Bacon Frittata
DuChick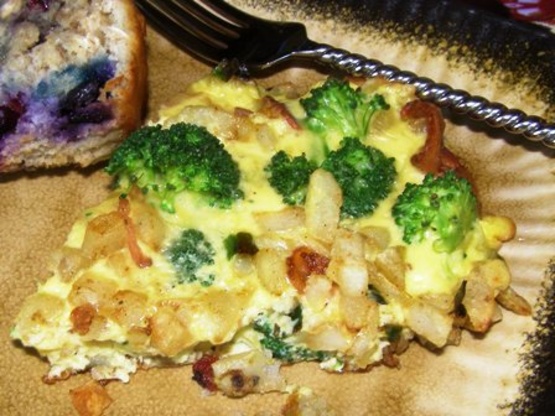 This is another one of my adopted recipes. This recipe is very flexible. It can be made with any creamy canned soup and any 10oz package of frozen vegetables. Serve with buttered toast or a crusty roll...

This is an excellent dish, perfect for breakfast, brunch or a light dinner. I had only 1/2 can of Healthy Request cream of chicken soup, so I cut the ingredients in half and the 2 of us were stuffed! Rather than splatter up my stovetop, I micro-ed the bacon and then used a bit of the grease to cook the potatoes and green onions. I used fresh broccoli and was tempted to top it all with shredded cheese, but didn't. It would be great that way too. MERP'd for Bargain Basement.
In ovenproof skillet cook bacon over medium-high heat for 3 minutes, stirring frequently.
Tilt pan and spoon off all but tbsp of the fat.
Stir in potatoes and green onions.
Cook about 5 minutes, stirring frequently until potatoes are golden brown.
Meanwhile, in medium bowl combine eggs and soup until well blended.
Then stir in broccoli and set aside.
Reduce heat to medium-low and add egg mixture to the skillet.
Cover and cook about 10 minutes, until eggs are lightly browned on the bottom and set around the edge but not in the middle.
Heat broiler.
Broil the frittata 4"-5" from heat for 3 minutes or until golden.
Cut into wedges to serve.